This issue of
Giant Cracked
from
1986
featured what they thought to be the best of
Cracked
up to that time, or mostly their inventory of articles about
Cracked
Cover by
Bill Wray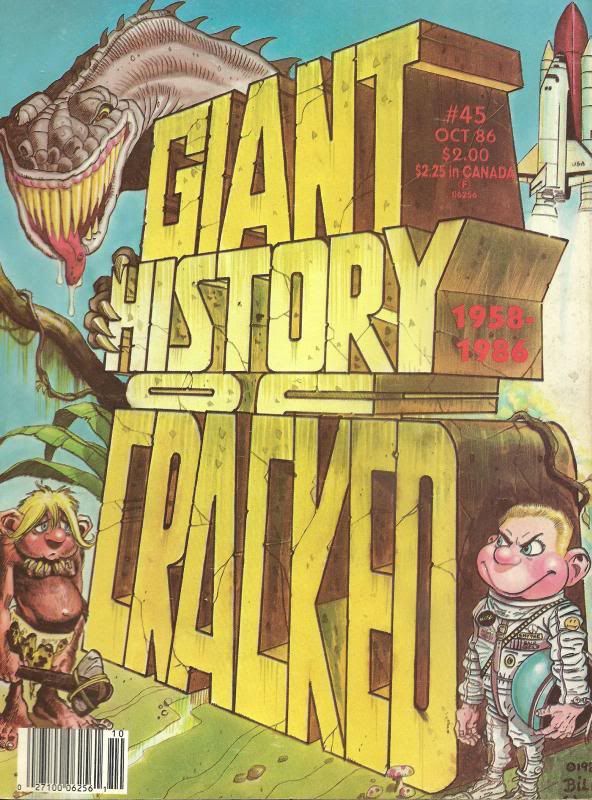 The inside front and back covers have a sampling of what they considered the best covers, including the one from their first issue I reprinted
a few months ago
.
Rather than my own annotations, I'll use the ones that were printed in the magazine itself:
"Cover of
Cracked
#1 (March
1958
) illustrated by
Bill Everett
. This cover, featuring
SYLVESTER P. SMYTHE
's first appearance, was designed and layed out by
JOHN SEVERIN
. When John brought the layout in and found out how little the publisher was willing to pay for the finished painting, he declined to do it and the layout was passed on to Bill, who did this interpretation. Bill created the
SUB-MARINER
for Marvel Comics in the 1930's and was a constant contributor in the 50's.
"By CRACKED #2 [below], the publisher wised up and got SEVERIN to do the cover. John has been doing CRACKED covers nearly non-stop for close to 30 years, totalling over 200 separate covers! This issue is also notable for the first appearance of
BILL WARD
, the first SHUT-UPS, and the first CRACKED movie parody. TV had already been lampooned in issue #1.
"Just about the
only
Thing older than CRACKED is
AMERICAN BANDSTAND
! This satire was drawn by genius-at-large
JOHN SEVERIN
and also appeared in #2. CRACKED's first TV parody appeared in #1. It was
GUNSMOKE
by
RUSS HEATH
[...]
"From CRACKED #6, this article was illustrated by
WILL ELDER
, who also collaborated with JOHN SEVERIN on
those great EC war comics of the '50's
. After he left the original MAD, he drew many articles for CRACKED and then went on to do the
LITTLE ANNIE FANNY
strip for PLAYBOY along with
HARVEY KURTZMAN
.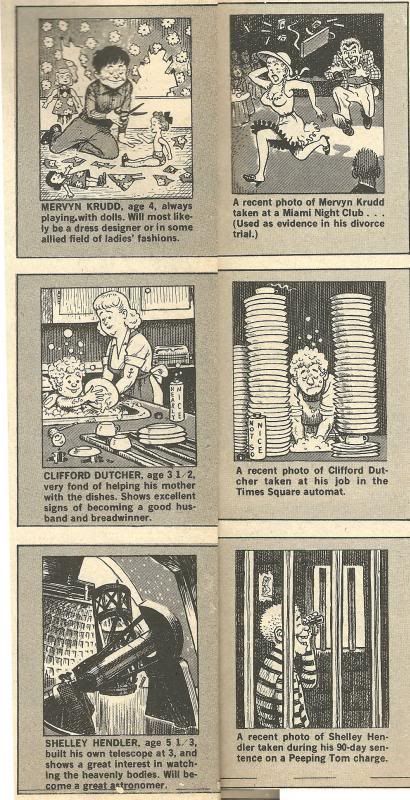 "You get a behind-the-scenes look at the early CRACKED in this one. As usual,
SEVERIN
crams the panels with a million gags! Also from #6, December 1958.
"A regular contributor to the early CRACKED was illustrator
GRAY MORROW
, who went on to draw many comic books and strips.
"Another artist who left the original MAD was
JACK DAVIS
, who did a whole load of work for CRACKED. He is known by
millions
for his ad illos and magazine covers for
TIME
and TV GUIDE. This article was in CRACKED #12,
January 1960
. Before there were punks or hippies, there were
beatniks
!"
Some of these pages have dotted lines, which are used to determine the margins for the printer.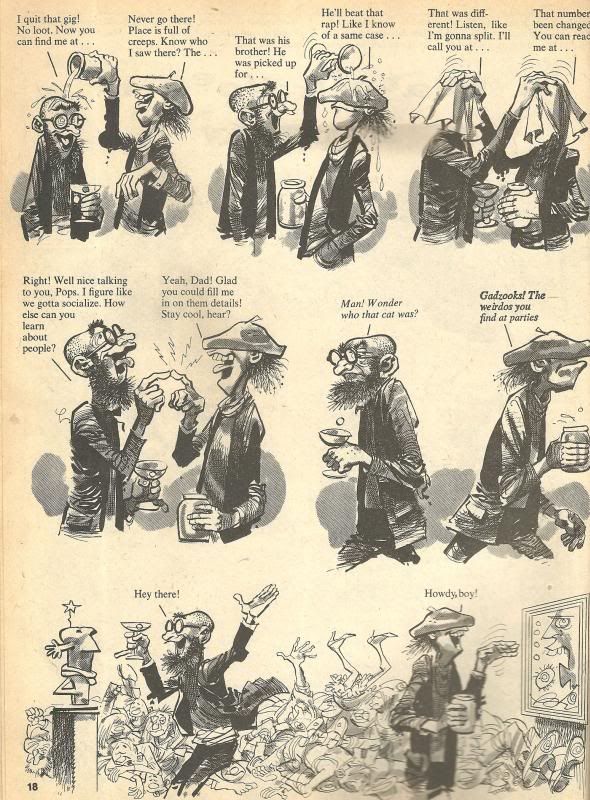 "This excellent piece was written by the prolific
GEORGE GLADIR
and was his second article for CRACKED. The first was CRACKED SPACE HELMETS. Recently run in the GIANT CRACKED SCI-FI SPECIAL. Both stories were originally in CRACKED #25, July
1962
. GLADIR still writes for CRACKED and is also a senior writer at
ARCHIE comics
.
Even their vision of how the
Cracked
office really is is an exaggeration, as I've been told the office was more of a cubicle.