Here's another issue of
Cracked
from my humor magazine collection. This one's from
January 1976.
Cover, like most
Cracked
covers, is by
John Severin
showcasing the interior parody of
Good Times
. Though the show was ostensibly about life in the projects, it became more of a showcase for star
Jimmie Walker
and his catch phrase "Dy-No-Mite!". The actors playing the parents quit for the reason that because of this the show left its original premise and could have taken place anywhere.
The inside front and back cover were usually a poster with a slogan like this.
Here's the parody from the cover.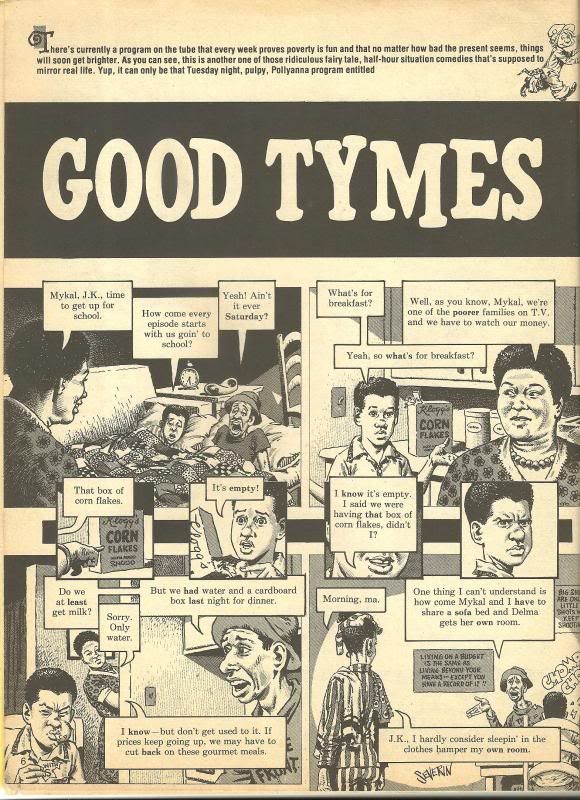 The shark craze based on
Jaws
, one of the first films to make what was once exclusively drive-in fare the standard for all big-budget movies. Art by
Don Orehek
.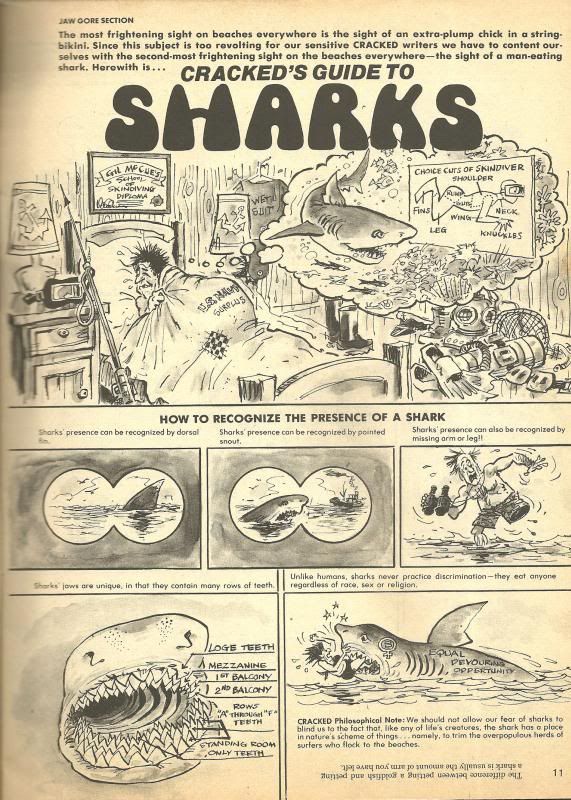 Sururi Gumen
was a veteran comic artist in Turkey (and father of
Murad Gumen
), who became one of
Cracked
's top artists.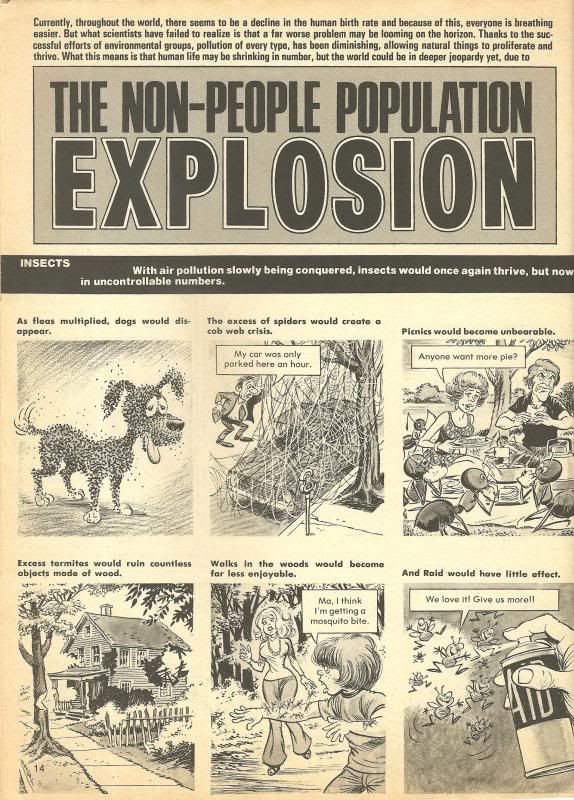 I accidentally pressed the button I use for my own art while scanning, making this into a bitmap scan with higher resolution. Some of the humor magazines I have taken some of the other magazines from discs which have the pages whitened like thisas well. I prefer the yellowing newsprint look, though.
Mascot Sylvester P. Smythe carries the letter S on the last page all throughout the magazine.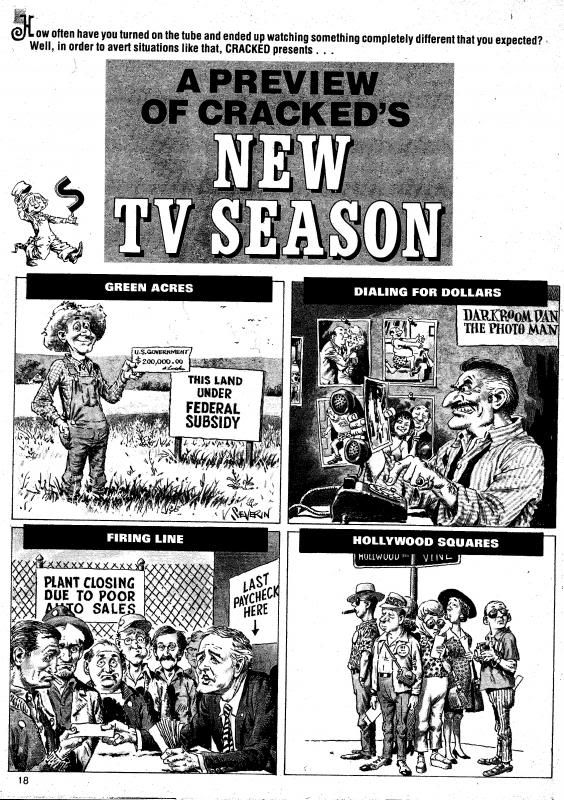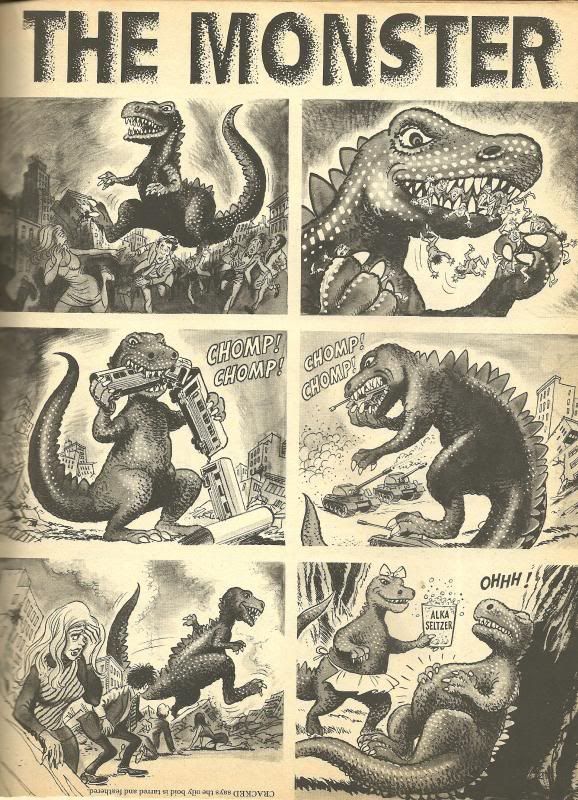 Bill Ward
Now a look all the way into the future of 1985. Pictured are Bea Arthur (
Maude
), Freddy Prinze (
Chico and the Man
), Carroll O'Connor (Archie Bunker,
All in the Family
), Karl Malden (Lt. Mike Stone,
Streets of San Francisco
), an attention-grabbing contestant from
Let's Make a Deal
, Mary Tyler Moore, Valerie Harper (
Rhoda
), Dennis Weaver (
McCloud
, Esther Rolle (Florida Evans,
Good Times
), Lawrence Welk, Ted Knight and Gavin McLeod (Ted Baxter and Murray Slaughter,
Mary Tyler Moore
), ?, Jack Lord (Pat McGarrett,
Hawaii Five-O
, Wayne Rogers and Alan Alda (Hawkeye Pierce and Trapper John,
M*A*S*H
), ?, Mike Connors (
Mannix
), ?, Darren McGavin (
Kolchak, Night Stalker
), Yvonne DeCarlo (Lilly Munster. Although
The Munsters
had been off the air for some time, I think the joke here is that she's supposed to be a vampire that Kolchak kills), Mr. Magoo, Sherman Hemsley(George Jefferson,
The Jeffersons
), Big Bird, Gary Burghoff (Radar O'Reilly,
M*A*S*H
), Bugs Bunny, Lee Majors (
Six Million Dollar Man
), William Conrad (
Cannon
), Peter Falk (
Columbo
), Cher, Richard Thomas,
The Waltons
, ?, Martin Millner and Kent McCord (
Adam-12
), Walter Cronkite, Jean Stapleton (Edith Bunker,
All in the Family
), Telly Savalas (
Kojak
), Johnny Carson, Buddy Ebsen (
Barnaby Jones
),?, Robert Young (
Marcus Welby, M. D.
), Angie Dickinson (
Police Woman
) [whew!].
Most were actually still alive in 1985, some still are. Some are actually still working as actors. I doubt the
Let's Make a Deal
contestant is, though.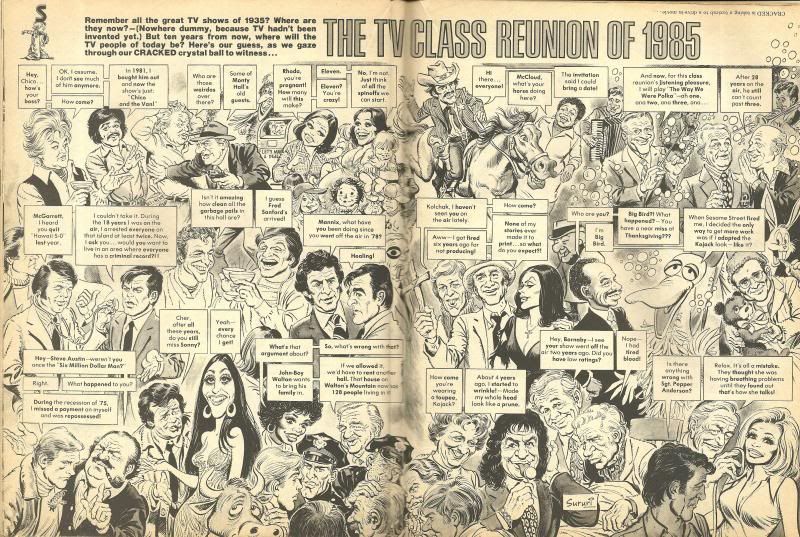 Parody of
The French Connection II
.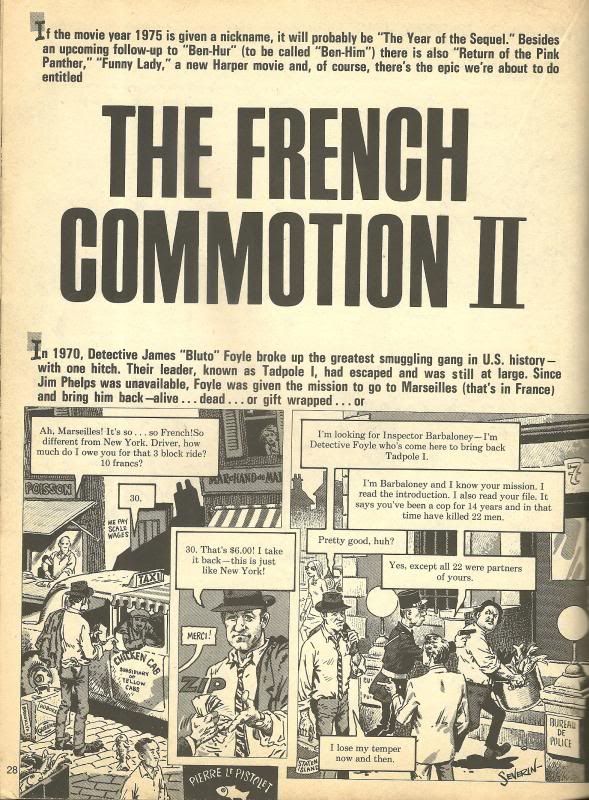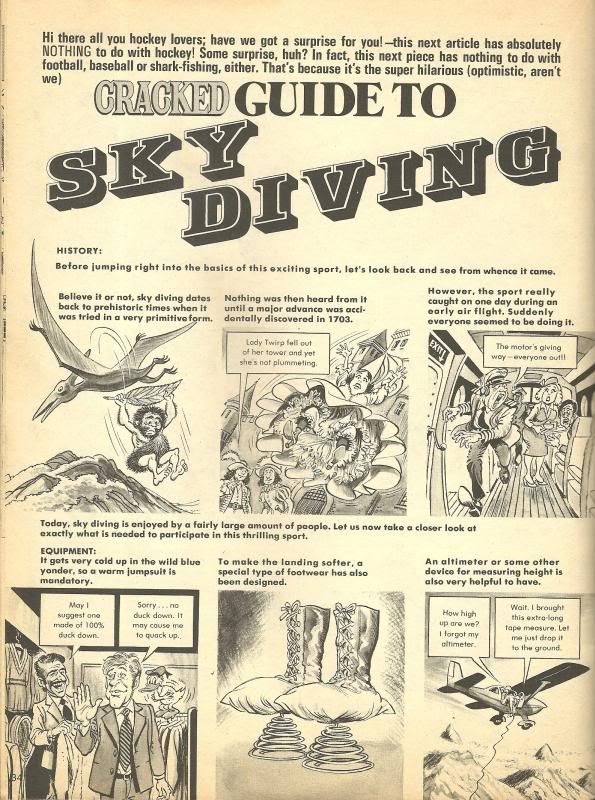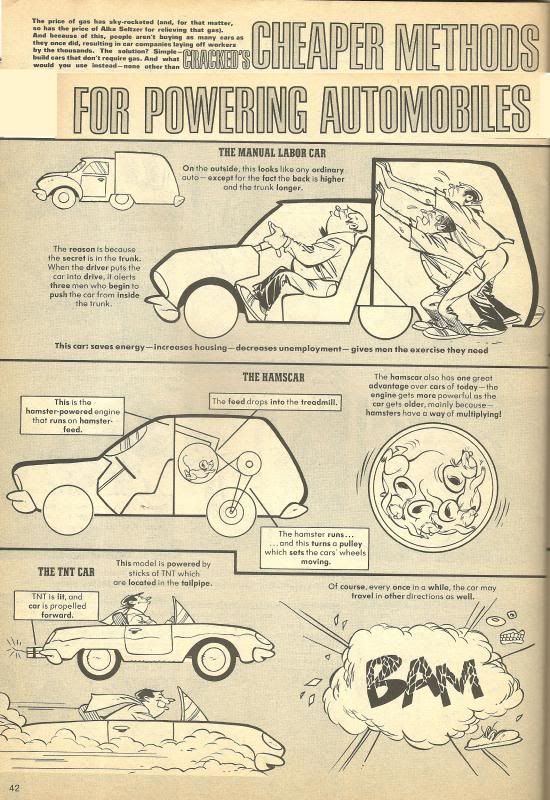 I doubt there ever were these notebooks. I never met anyone who had them and never came across any in my years of going to antique stores and flea markets. If anyone has one, let me know so I know they existed.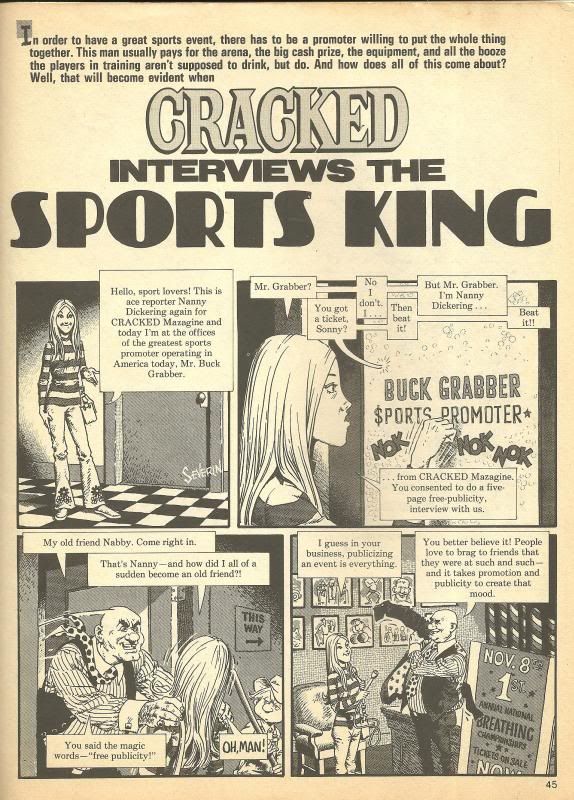 This and the back cover were by
Charles Rodrigues