Nanoo nanoo. Welcome to the June
1979
issue of
Crazy
. One of the few times the cover (by
Bob Larkin
) is actually about the lead article inside, the lead article being a parody of
Mork and Mindy
.
Coincidentally as I'm typing this, comedian
George Wallace
just tweeted: "Shout out to Mindy. Mork knows what he did and if I see him he's done I won't say what Mork did but that shit was uncalled for he's done."
The introductions to the articles aren't even necessary except to look as close to
Mad
as they could.
Here's a strip by Al Scaduto, who people over 35 would recognize from
They'll Do It Every Time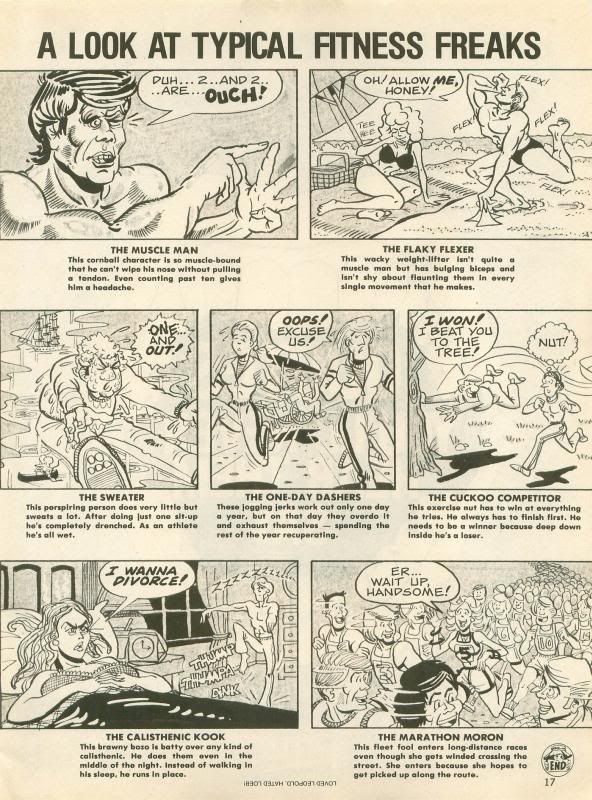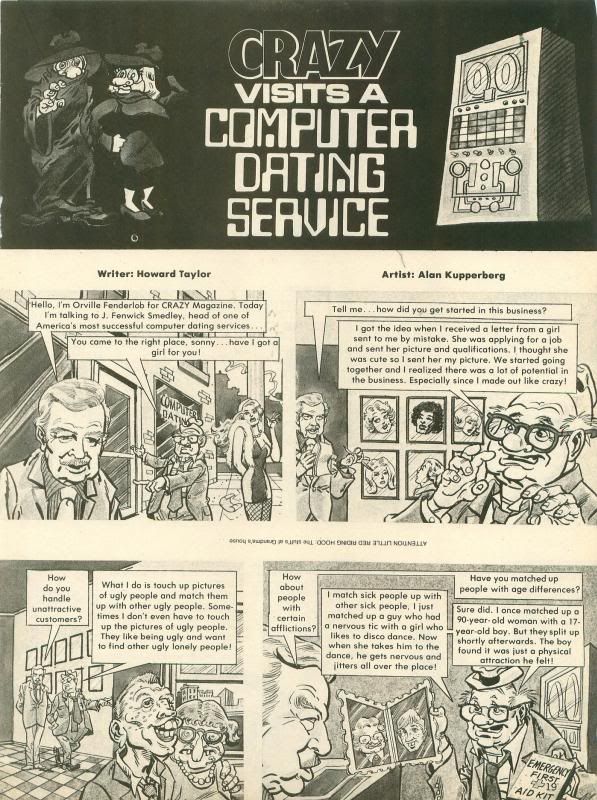 George Siefringer was an assistant to
Bob Powell
along with
Howard Nostrand
and
Marty Epp
, except he didn't go on to do things except like this..
From an article called
Do-It-Yourself Comedy Monologue
. With a few exceptions, the characters depicted were already well-known decades earlier. Like we mentioned
last week
, the caricatures seem to be swiped from other caricatures, and it looks like not all by the same artist either. Some look like
Mort Drucker
while some look like
Al Hirschfeld
.
Red Skelton
would have been 100 this coming Thursday. Let's all
take a moment to celebrate
.
They tried to remind you they were a
Marvel
magazine each issue, and non-Marvel staffers tried to use them accurately. They tried.
The joke here is that these products are the opposite of what the celebrities endorsing them are known for. Some of them don't make sense.
Gerald Ford
is known for accidents, so wouldn't he be the perfect spokesman for insurance. and wouldn't
Hugh Hefner
be the right one to endorse vitamin pills? I'd figure he'd be up front about using vitamins (
erection
pills hadn't yet been invented), telling you these could make you able to keep it "up" all day just like him. And by all accounts,
Don Rickles
is a very nice person when he's not performing.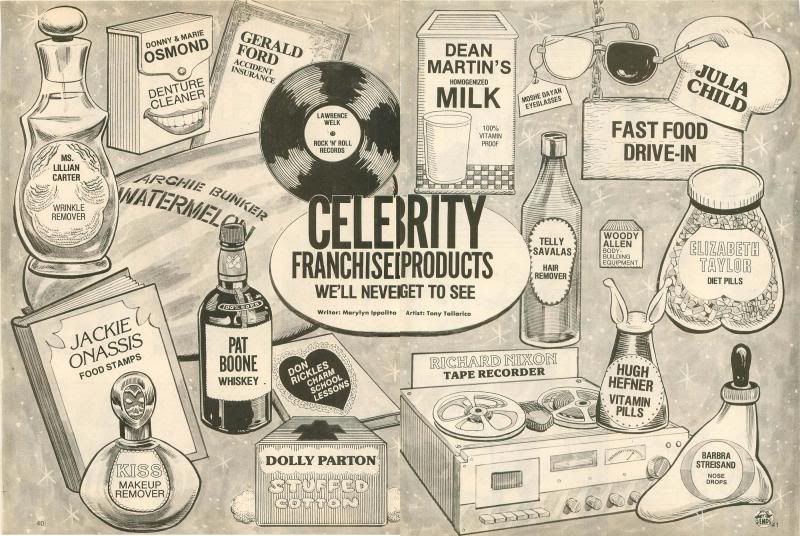 Parody of the mega-hit
The Boys From Brazil
.
This drawing by
Sam Viviano
looks like it may have been meant for black and white, with the newsstand later put in by someone else..
Anybody know who that is between
Woody Allen
and
John Ritter
? And is that
Jackie Mason
between
Paul Simon
and R2D2? I only ask because I was 9 when this came out. And why is
Richard Pryor
shirtless?
Next Monday:
Crazy
#54. Stay tuned or you're a Nimnul.