Plowing through the many humor magazines I have, here's
Cracked
#31 from September 1963
This cover was used before in an article from an earlier issue called
Rejected Magazine Covers
First generation underground cartoonist
Jay Lynch
cut his teeth contributing to some of these magazines while still finishing high school. He's on the masthead but has no recollection of what exactly he contributed. They recycled the masthead that year so many of the contributors mentioned are not included and some in this issue are not. There were a lot of pseudonyms and reason for that was to make the magazine look like it had more contributors.
"During l963 I wrote a lot of stuff for
Cracked
. All of what I wrote was either drawn by Severin or Ward (under their real names or fake names like Powers, LePoer, McCartney, and so on). The real writers on this were Bette Martin, Me, Gladir and Schwartz. Sometimes [publisher/editor Bob] Sproul would have an idea for an article that would set a premise and list examples...and he'd write to all the writers asking them to send in examples of the premise. So in that case, several writers would contribute parts to the same article. Looking at this table of contents though, I don't remember having written anything that's listed there...so it could be a case of saving money on masthead typesetting...although I think Schwartz wrote and drew his stuff, and he was in only one or two issues that year, I think. ...So I don't know for sure. It was 50 years ago. Nothing on the contents page rings a bell. Sproul and Martin (who worked in the office with him) were really busy. It was only the two of them in a tiny office. In addition to
Cracked
they did two or three other mags each month...
College Laughs...French Cartoons and Cuties
....and some army cartoon mag. Was it called
Army Laughs
? Or
Army Laffs
...or something like that?
"Maybe I wrote a one-pager or a two-pager drawn by Ward or Severin in that issue that isn't on the contents page? I don't know... a gag about a Geisha House...A gag about the Keersarge aircraft carrier? I don't know."
The inside front cover is a parody of ads for Kodak film.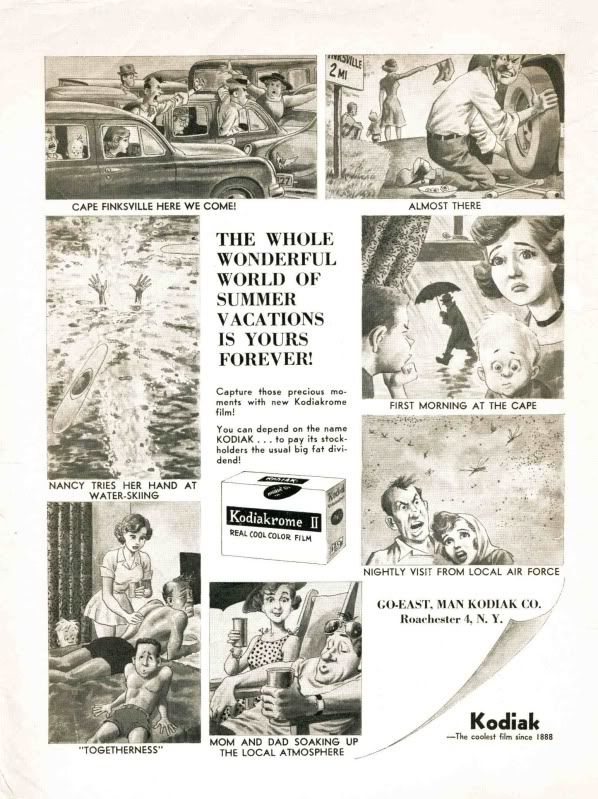 After the contents and letters is this article illustrated by
John Severin
.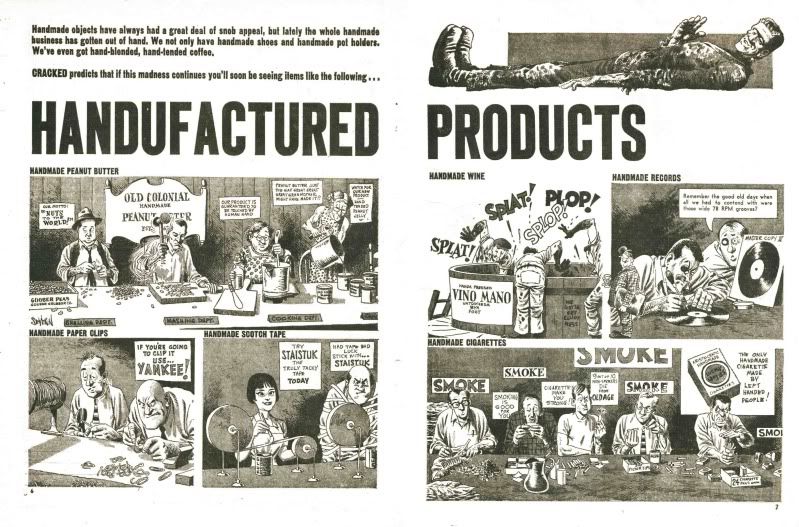 Bill Ward
drew this as "McCartney", erroneously billed as "McCarthy" on the masthead.
Like
Mad
often used articles written by celebrities that was really material from scripts already written, here's one
Jackie Gleason.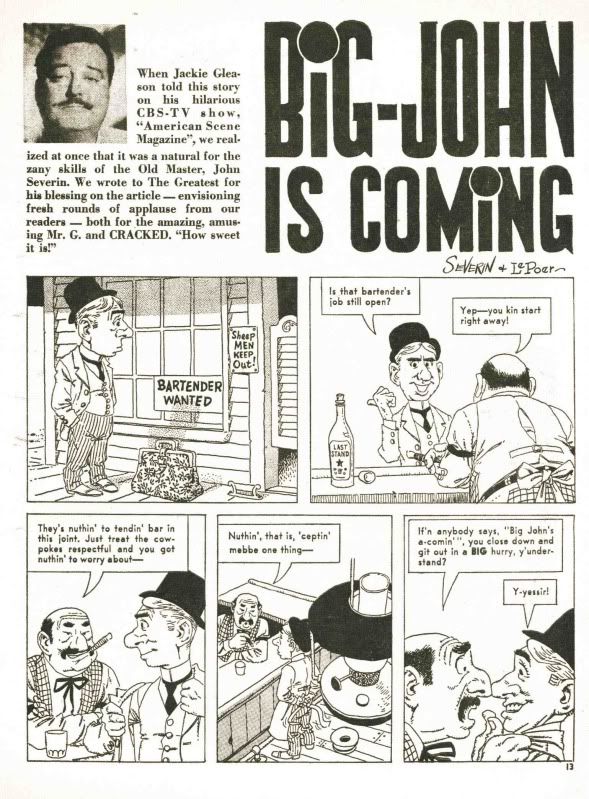 After
Touchavision Radio Mirror
, again drawn by John Severin, comes this one-pager drawn by
Pete Wyma
.
Monster Party
, which was later reprinted in
Monster Howls
and can be seen
here
, appeared next, and the logo was later used for an ongoing title of the same name.
I'm pretty sure "Kelly" (or sometimes "Ned Kelly") was the signature used when John Severin collaborated with
Don Edwing
on various pieces. Edwing for a while was the ghost writer for
Don Martin
at
Mad
and for both he probably did very tight breakdowns for the artist to draw. At least that's my theory.
Again from Jay Lynch:
"
Cracked
had an artist who signed his stuff 'Kelly'. At the time,
Mad
was demanding that most of their artists and writers not work for the competition. Don (now called Duck) Edwing was writing Don Martin's gags then. And I always had the notion that Kelly was Edwing drawing under a fake name...But Edwing would never confirm that to me."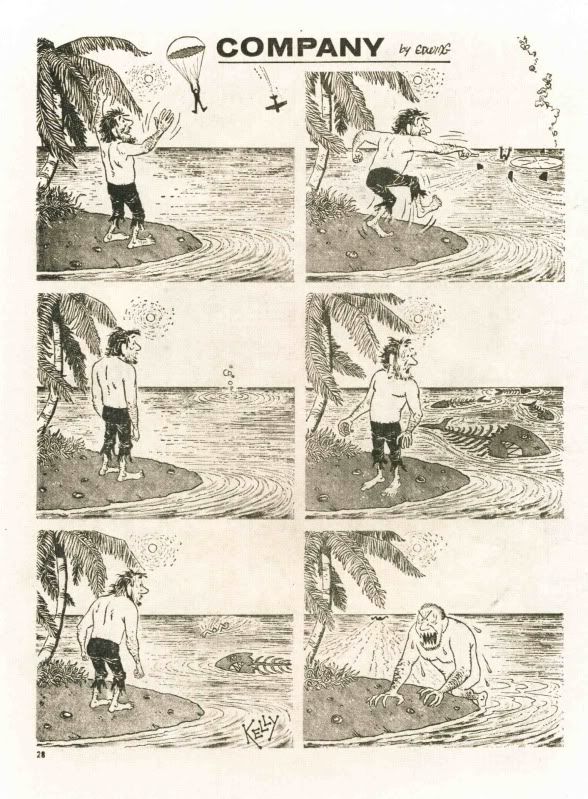 This is from an article entitled
The TV Commercial War
signed by John Severin as "Al Durer".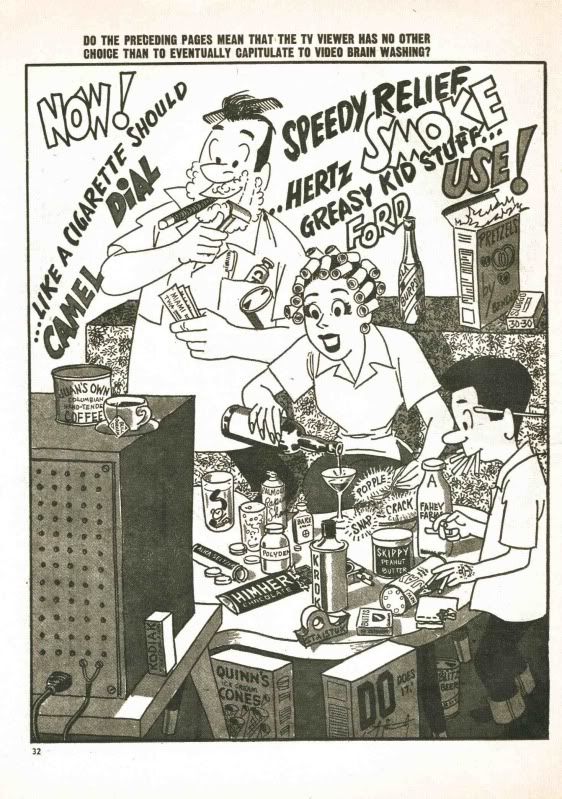 It All Depends On the Point of View
was illustrated by Pete Wyma.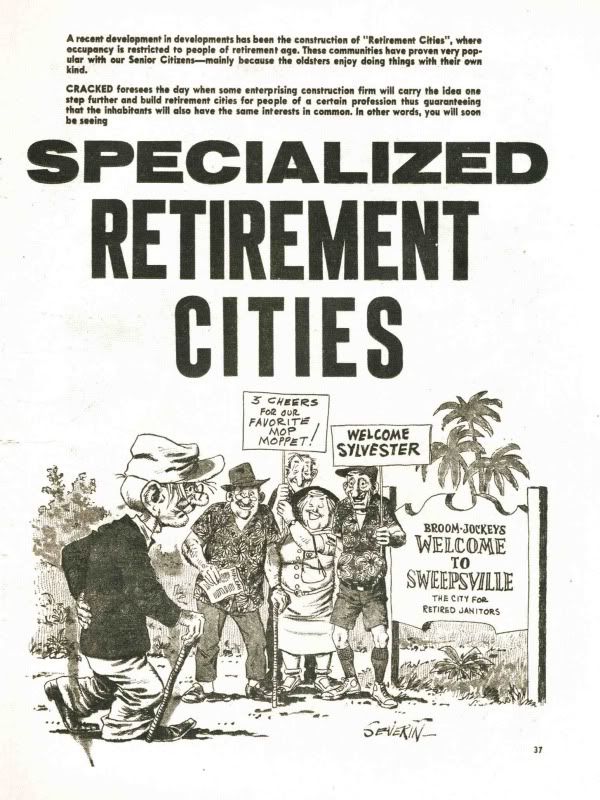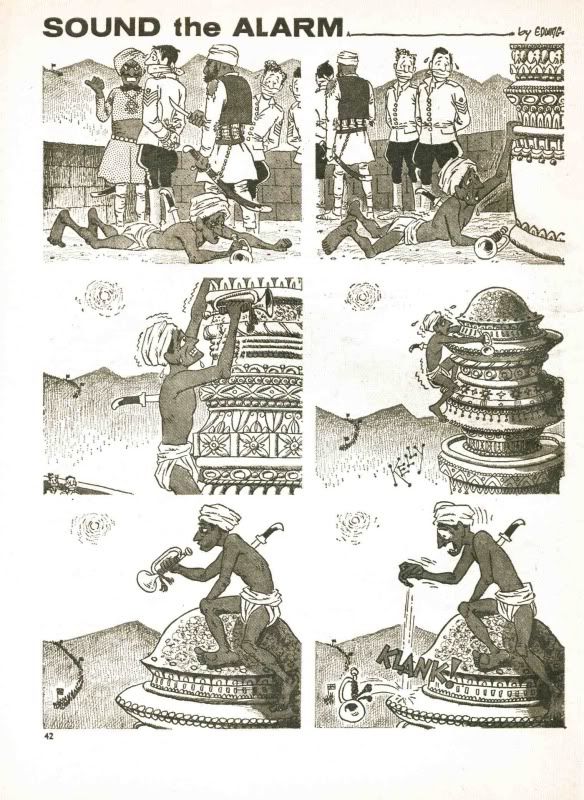 After this were
If John Q. Public Hired a Press Agent
by John Severin,
The Dream Came True
again by John Severin (as "LePoer"), and then this subscription ad on the inside back cover.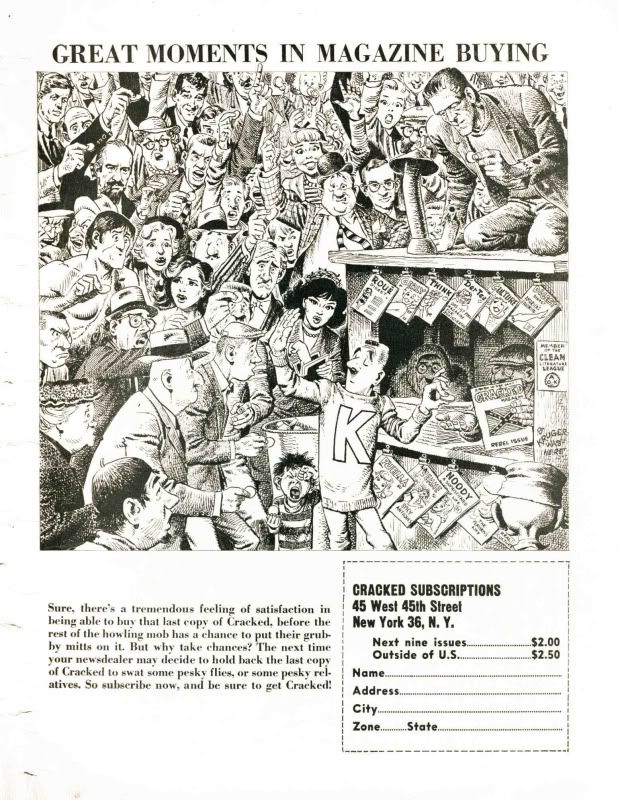 The back cover was the
Cracked Eye Chart
, which was exactly what you think it was.
Next week are excerpts from
Cracked
#33 a few months later.