I have enough material to last until my death, not including what I'll acquire before then. According to the average life expectancy, that will be around 2047, barring accidents (knock wood). I figured rather than choosing a representative issue of a magazine and print it in its entirety, instead I'll go through my collection and use annotations and links. Much of the material is pretty boring anyway. If you want to see a magazine badly enough, there are many back-issue business and torrents you can probably download if you look hard enough.
I have lots of humor magazines I can post excerpts from. The complete runs of
Mad
and
National Lampoon
are available on DVD so there's no need to show any of that. Let's start with my collections of
Cracked
,
Crazy
, and
Sick
. Like I said, a lot of the stuff is boring, and this way I can continue to post things without worrying about possible cease & desist orders from publishers.
Here's the first issue of
Crazy
from October 1973 with a cover by former
Mad
artist
Kelly Freas
. In the editorial later in that issue, editor Marv Wolfman wrote:
Our first *BIG NAME* contributor is FRANK KELLY FREAS. You know he's a big name because anyone who uses his
middle name
has
got
to be important. Kelly is a well-known painter, forger, counterfeiter, and shoe salesman. His covers have appeared in
Analog
as well as other science-fiction magazines. His work has also been seen in the semi-obscure imitation of CRAZY magazine they call
Mad.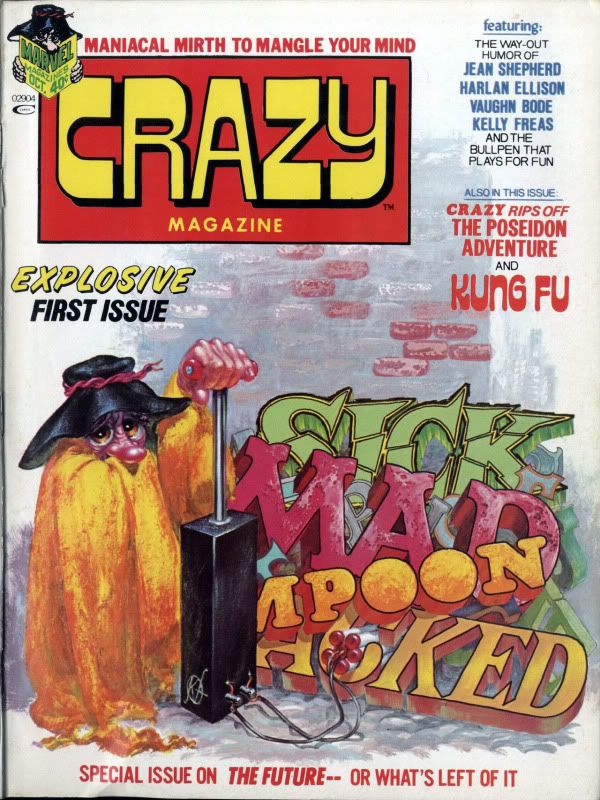 At the time
Marvel Comics
was publishing every possible genre and format, and
Crazy
was their entry into the humor magazine market. The original editor were Marvel staffers
Roy Thomas
and
Marv Wolfman
, undoubtedly overworked already.
In their own words:
Until you bought this book, you probably never heard of CRAZY magazine. In fact, almost
99% of America's public probably never heard of CRAZY. Frankly, this bothers us.
[
1 percent is 3 million. I don't know what they're complaining about
.] You see, we have to sell the magazine to every home in the United States, Canada, and Upper Volta just to break even. If we actually want to make a
profit
, we also have to sell copies in Iceland, Norway, Brazil, and Gary, Indiana. So our problem is how do you sell a magazine no one has ever heard of?
Virginia Slims
was marketed as a cigarette for women and the whole campaign, with the slogan "You've come a long way, baby!" was centered around women's liberation.
They began with a parody of the TV series
Kung Fu
.
In
Who's Who
, it says of them:
STU SCHWARTZBERG
and
MIKE PLOOG
, co-producers of
Kung Fooey
, are identical Siamese twins separated at birth and then raised a continent apart. Though these two brothers have never met, they still keep in touch by a three-thousand mile long strand of skin the Doctors unfortunately overlooked.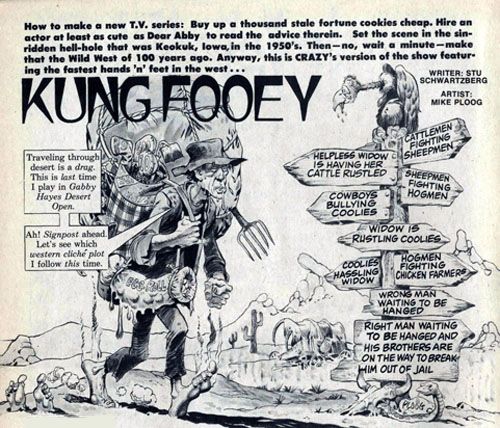 The early issues of
Crazy
had some "big name" contributors you wouldn't think would deign to contribute to these magazines. Most likely their piece were inventory or reprints, like this piece by
Harlan Ellison
and
Basil Wolverton
.
Last but not least (or so he claims) is Harlan Ellison, well-known writer of Science Fiction, Television, Movies, short stories, limericks, pornography, and, when he's run out of ideas for everything else, comic books,
The world of the future is showcased in their newspaper
The Daily Survivor
TONY ISABELLA
, CARLA JOSEPH,
GERRY CONWAY
,
STEVE SKEATES
,
DAVE HUNT
, and
MARIE SEVERIN
, all of whom worked on
The Daily Survivor
, our future newspaper feature, are midgets who once co-starred in the Barnum and Bailey Elephant Act—playing the elephant. Each night they would don a large grey suit and run into the ring and squirt water at the clowns. Tiring of that meaningless line of work, they packed their trunk (Carla, it must be noted, was the trunk) and came to New York to join the CRAZY crew.
I guess I shouldn't be giving Tony Isabella a link, since he wrote the first negative review of
The Magic Whistle
years ago, saying it was "unimaginative, pointless, and devoid of any humor." I give him credit though, unlike other naysayers I've encountered throughout my career, for probably reading the material before critiquing it.
Here is the funnies section of their paper from the future.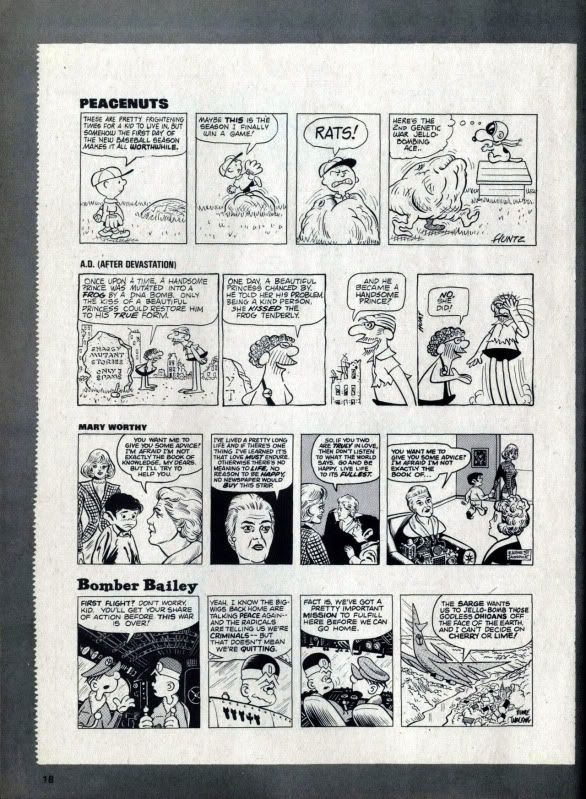 To show they weren't your typical humor magazine, they ran parodies in their first few issues of features from other magazines. The truth is their parodies were pretty much the same level as the objects they parodied.
Roy Thomas, who wrote
Features We'd Be Crazy To Print
is Editor of the entire Marvel Comics Group, a vast military complex dedicated to the overthrow of Philadelphia
I think I've posted every
Dave Berg
parody in existence.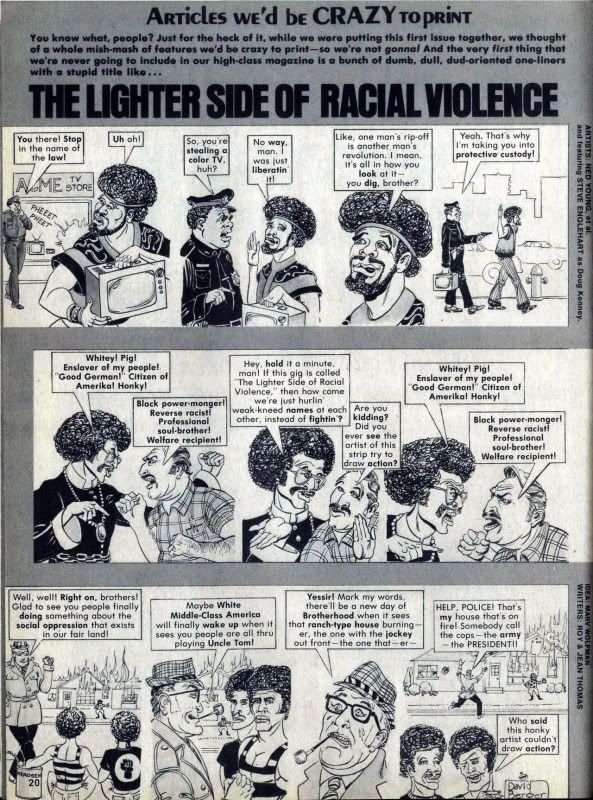 National Lampoon
's
Foto Funnies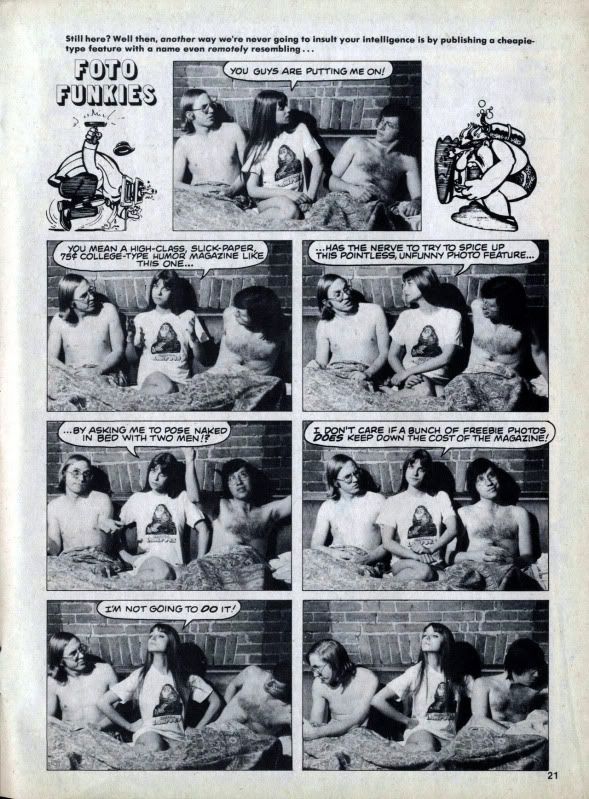 Shut-Ups from
Cracked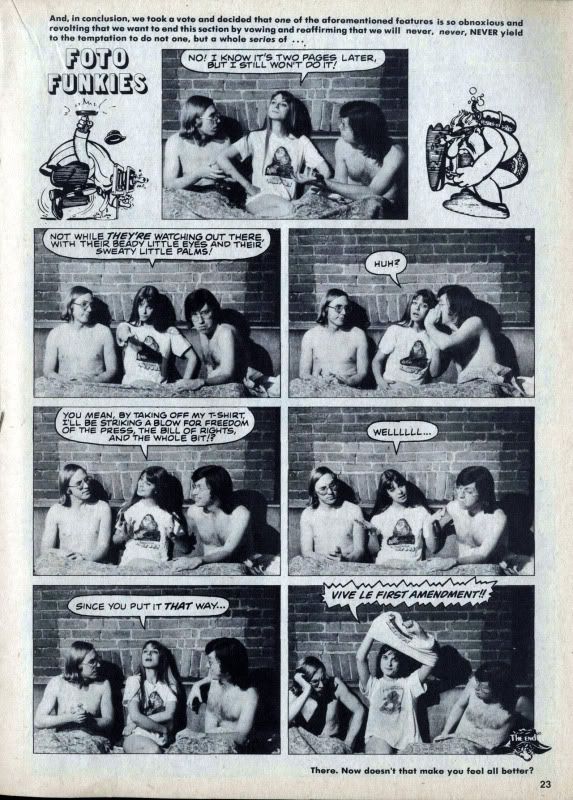 They liked to do fumettis of them and the staff.
MARV WOLFMAN, our editor, and a firm believer in nepotism, hired his wife Michele and a bunch of our friends to produce CRAZY's first far-out fumetti,
The Great American Dream
(what's a
Fumetti
, you ask? Well, in Italian, it either means
Puffs of Smoke
, or
Hey, Joe, you got some gum?
Fumetti is also the name given photographed comic strips in many other foreign countries.)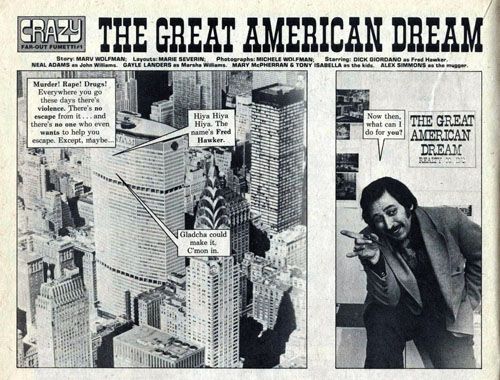 An Independent Survey Today Announced...
was written by
Jean Shepherd
. It was similarly adapted material like how the early days of
Mad
printed articles by well-known comedians of the day. I doubt Shepherd even knew he was printed here.
As their editorial says:
Our Next *BIG NAME* is JEAN SHEPHERD, whose radio show is syndicated over the entire known universe, had a television show that was probably shown on the one station that your TV doesn't pick, up has written for every
other
magazine in the world, has won the annual
Playboy
humor writer's award every year for the past five centuries, and has just published his latest collection of stories under the collective title of
The Ferrari in the Bedroom
DON McGREGOR and
HERB TRIMPE
, North Korean Amputees, worked alongside JEAN SHEPHERD to produce
An Independent Survey Today Announced
which begins on Page 27. Care packages for our orphans will be accepted in care of Marvel Comics.
Who's Who
, from which I've been printing excerpts, introduces readers to its contributors.
Then the obligatory movie parody, here of
The Poseidon Adventure
.
LEN WEIN
, son of a flea surgeon and cream cheese sandwich, along with
ROSS ANDRU
and his pet giraffe,
VIC MARTIN
, combined their questionable talents to 'spoof'
The Upsidedown Adventure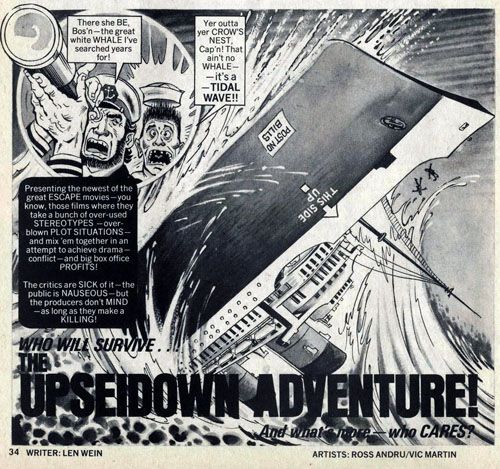 One of their recurring features was
Evolution and History of Moosekind
by Bob Foster, who had recently done the underground comics. This feature was a parody of world history with all the figures punned with moose names and resemblances to moose. It was later
collected by Fantagraphics
.
Last but not least, let us not forget (although we try), BOB FOSTER, who contributed the first in a seemingly never-ending series on the
"History of the Moose"
. For those of you who wish to do further study into Moose lore, may we suggest
Myron Moose Funnies
, an underground comix now in its second big issue.
I will show pages from it in later weeks when
I'm not as lazy
there's more room.
A house ad for
FOOM
, the official fan magazine of Marvel Comics, called appropriately enough,
Foom-Etti
.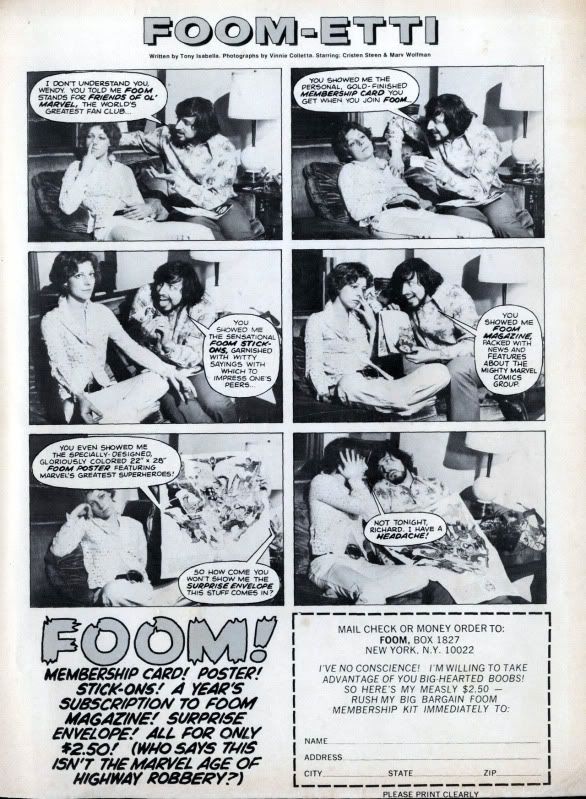 This was the back cover by
Vaughn Bodé
. As
Who's Who
describes him:
VAUGHN BODÉ, whose art is on our back cover, is also a *BIG NAME*. His cartoons appear in almost every issue of the
National Lampoon
, and readers of
Cavalier
, a dirty men's magazine, leer at his sexy strips each issue as well. Vaughn's work has also graced Underground comics, Magazines and subway cars.
If we've left any of our contributors out of this column, they probably weren't too important anyway.
Thank you for coming to the grand opening of CRAZY magazine, and we hope you'll be here for our next issue when we reveal our startling secret that the Earth has only
forty days
to live.
See you in two months.
CRAZY #2 next Monday.