From
Esquire Cartoon Album
in 1957, continued from last week.
Eldon Dedini
As
The World Encyclopedia of Cartoons
, edited by Maurice Horn, in an entry by Bill Crouch Jr., said of him:
ELDON LAWRENCE DEDINI (1921-[*]) American cartoonist born in King City, California on June 29, 1921. Eldon Dedini grew up in the Salinas Valley region and has lived in California throughout his career, though his submissions have mainly been to magazines with editorial offices in the East. His cartoons have been a most enjoyable feature of national magazines since 1940, when he sold his first to
Esquire
.
Dedini decided to become a cartoonist while in high school. He learned how to submit roughs and gleaned the names of cartoon editors from a how-to book edited by Lawrence Lariar. Encouraged by an art teacher at Salinas Junior College, Dedini submitted samples and for experience offered to work for free on the
Salinas Index-Journal
and the
Salinas Morning Post
. With the teacher's help Dedini earned college credits for his editorial cartoons.
In 1942 he won a scholarship to the Chouinard Art Institute in Los Angeles, but he deliberately went to school only four days a week so he could continue to freelance magazine cartoons. From 1944 to 1946 he did storyboards for the Disney studio. One day he received a call from Dave Smart, editor at
Esquire
, who offered to double Dedini's salary if he would work exclusively for
Esquire
as a gag man and featured cartoonist. This arrangement lasted from 1946 to 1950. However, he continued to sell to
Esquire
into the 1960s.
in 1950 he began selling to the
New Yorker
, and in 1960 Hugh Hefner began to publish Dedini cartoons in
Playboy
. The full-page color Dedini cartoon in a wet watercolor style has become a regular
Playboy
feature. Rubenesque nymphs and licentious satyrs, themes Dedini first did for
New Yorker
cartoons, have subsequently blossomed to their full potential in
Playboy
. In addition, he excels in the humorous treatment of historical period pieces. Social and political comment also surfaces in Dedini's work.
Dedini writes almost all of his own gags, and back in his
Esquire
days he wrote many of the other gags for cartoonists such as Paul Webb, Barbara Shermund, and E. Simms Campbell. He acknowledges having been influenced in his style by the watercolors of E. Simms Campbell and the work of Peter Arno and Whitney Darrow, Jr..
Dedini's color cartoons are carefully staged. He calls them "productions". However, simplicity of design and gag, usually arrived through hard work, are hallmarks of his style. The lush, painterly richness of his color work blends perfectly with the ripeness of the female form he draws for his
Playboy
cartoons. With heavy washes running the full range of tone from light gray to black, Dedini keeps the painterly look in his black-and-white cartoons. No matter what his theme, Dedini's work seeks the good strong laugh, not the chuckle. More often than not, he succeeds.
An anthology of his work,
The Dedini Gallery
, was published in 1961. He is also included in many cartoon anthologies published by
Playboy
and others. In 1958, 1961, and 1964 he was voted Magazine Cartoonist of the Year by the National Cartoonists Society
.
*The book was written in 1980, when he was still alive. He died in 2006.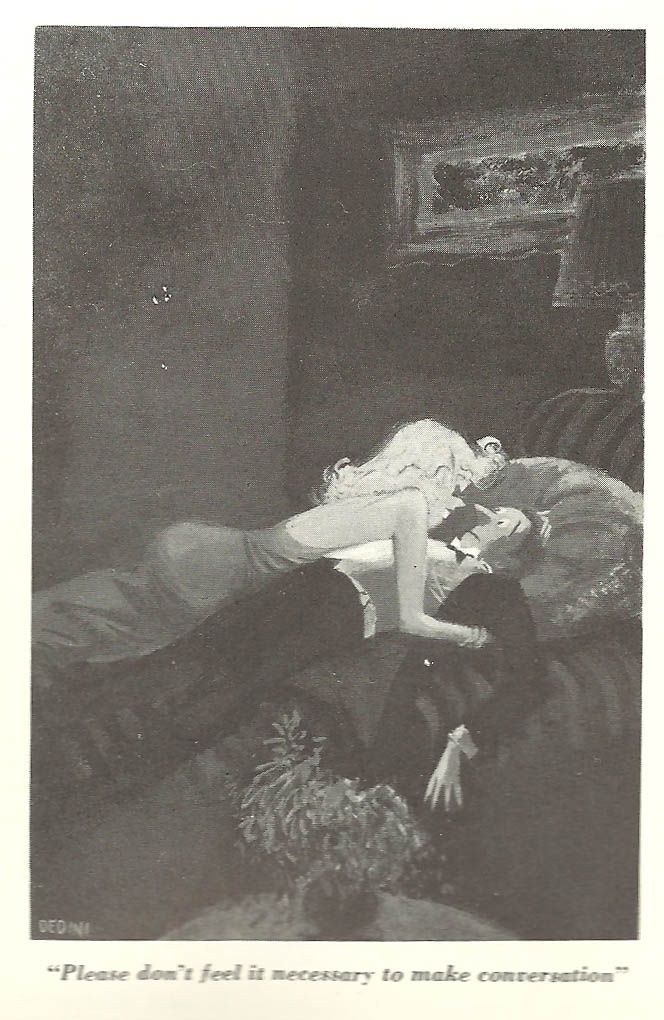 Irving Phillips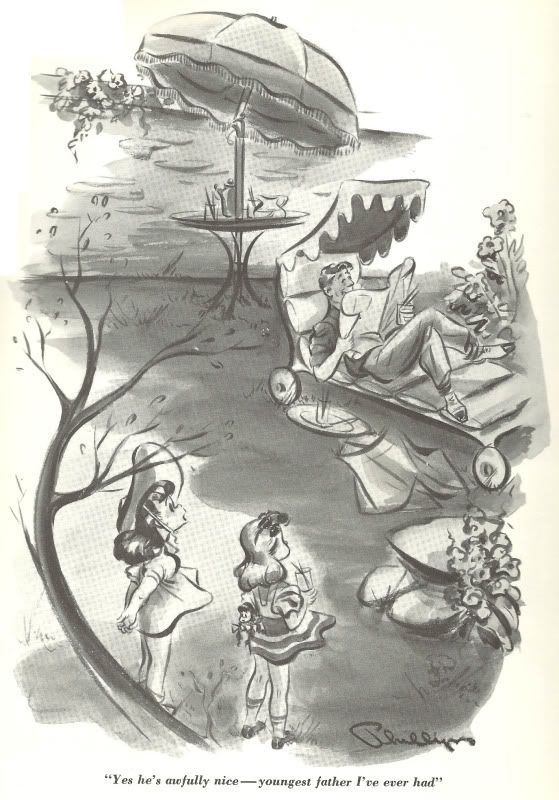 E.Simms Campbell, see his lengthy biography last week.
Also E. Simms Campbell
I can't figure this out. The joke seems to be that he is an important person and therefore shouldn't have to pay, or maybe there's illegal activity going on and the badge shows he's an officer. Maybe the joke is that an officer would never actually be in a nightclub. He kind of looks like Hitler but that couldn't be it.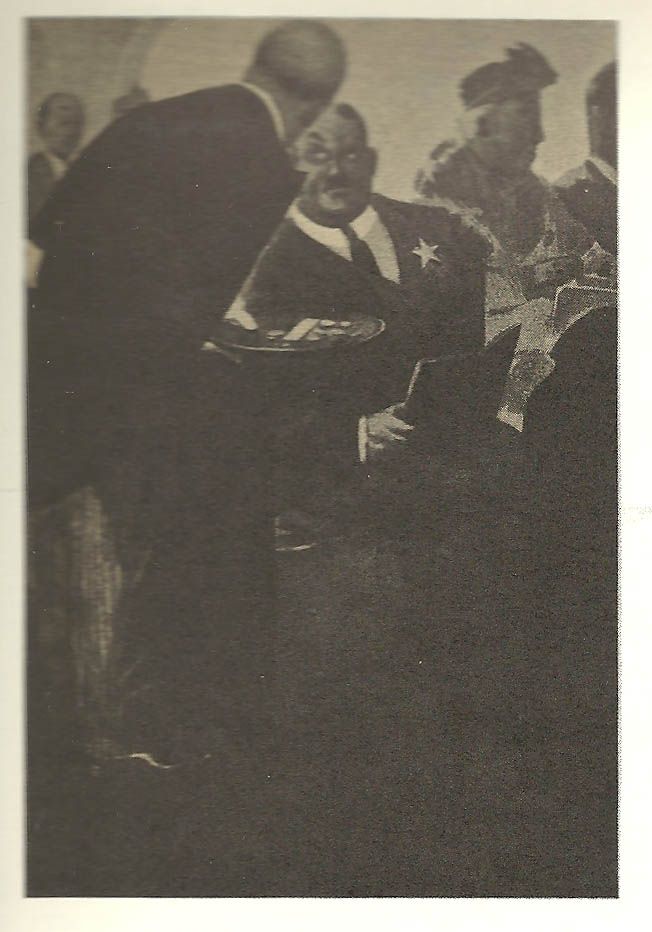 I'm not sure who did this but I like the style.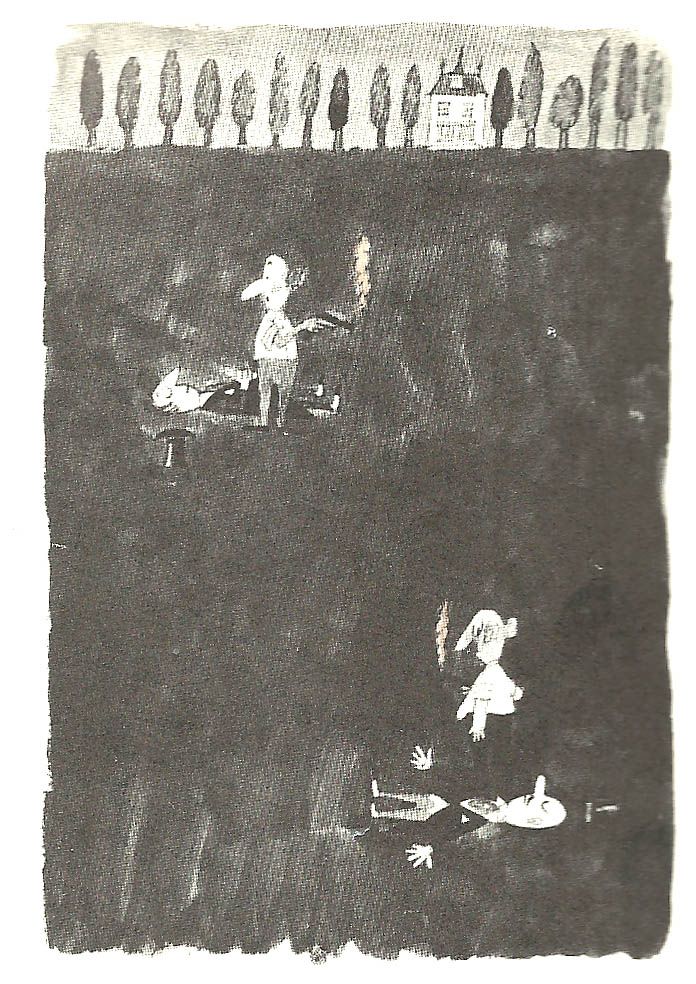 Barbara Shermund
Here's another bio by Richard Calhoun, from the
World Encyclopedia of Cartoons
, even though it makes no reference to
Esquire
:
BARBARA SHERMUND (1910?-1978) American cartoonist born in San Francisco, California around 1910. Barbara Shermund received her art training at the California Institute of Fine Arts where she studied painting, sculpture, art and design .In those days, one headed east rather than west to find fame and fortune in the world of art; no exception to the rule, Shermund moved to New York City. She repeatedly told herself that she did not intend to stay, but she nonetheless managed to eat up the money earmarked for her return trip and was forced to look for a job. She first worked for the
New Yorker
doing spot illustrations, department headings and covers. Her entrance to the field of cartooning came, she said, "the day I was told to write lines under my drawings." In Dale Kramer's
Ross and the New Yorker
, Shermund is remembered as a "pretty girl not long in from California [who] had a firm grip on the young ladies of the Jazz Age"—undoubtedly because she was one of them.
Although she was a contributor to all the major periodicals of the 1930s and 1940s, it was in the
New Yorker
that Shermund's swift, effortless grace of line and attention to detail came to maturity. Her work was almost breathlessly "feminine", reflecting the milieu of the young, pampered, usually upper-crust, at times spoiled and almost always boy-crazy flapper (Shermund's two female contemporaries, Alice Harvey and Helen Hokinson, also injected quality in their work, each in her own way). In this, her ear proved as apt as her eye. Thus the two slender, long-limbed ingenues riding their bikes along a park lane or country road as one explains her tactics in what a colleague (James Thurber) was pleased to call "the war between men and women""(*): "then I wrote him an awfully nasty letter but, you know, cute".
As of 1972, Shermund was still a regular contributor to King Features Syndicate, though her art no longer showed the facility and inspiration that characterized her best work for the
New Yorker
. She died in 1978.
(*)If anyone has a link to this letter, we at the
Magic Whistle
would love to see it.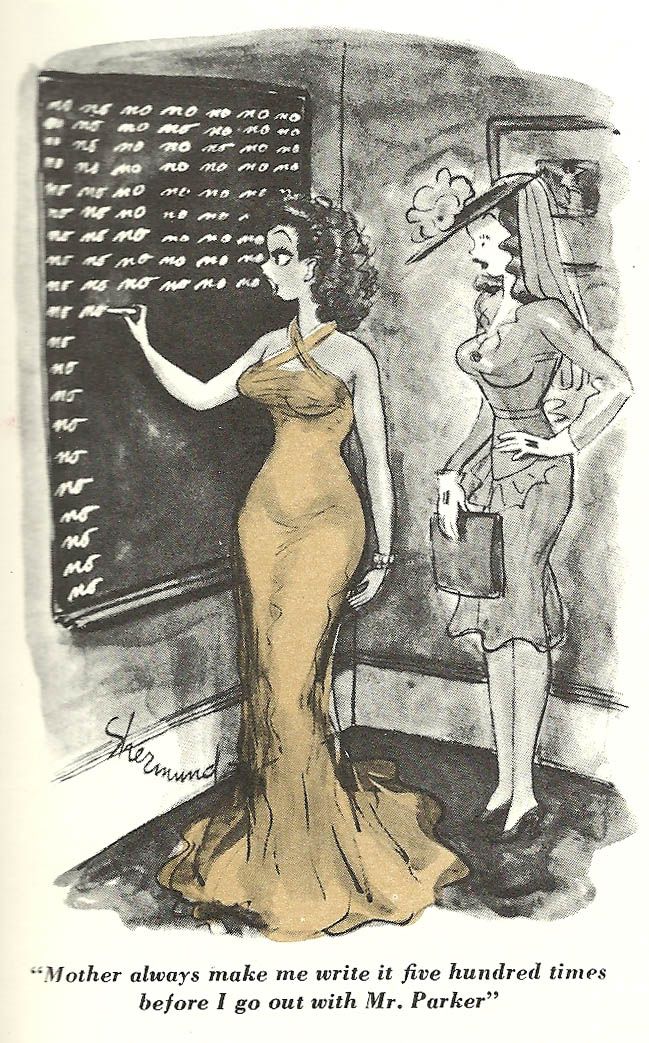 Rodney DeSarro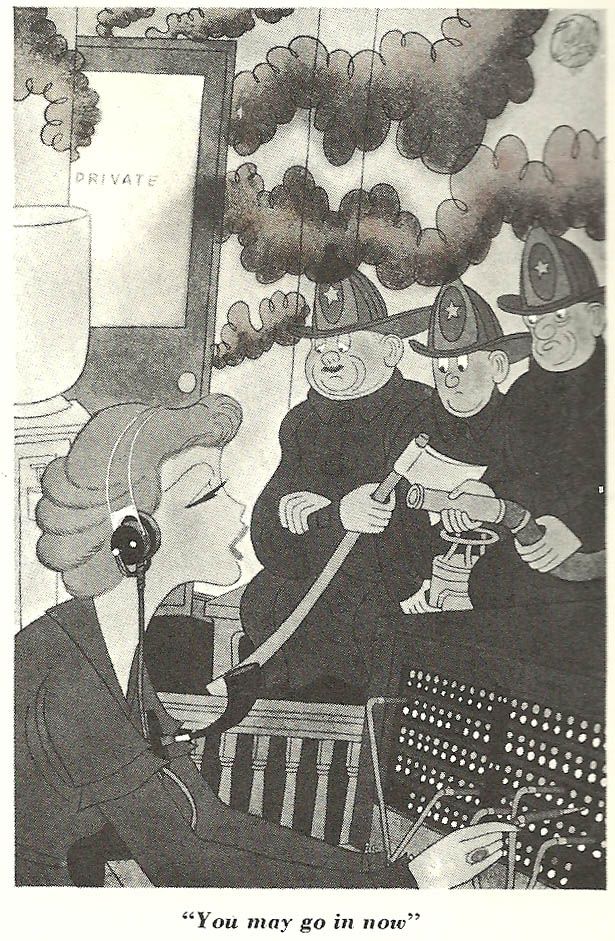 E. Simms Campbell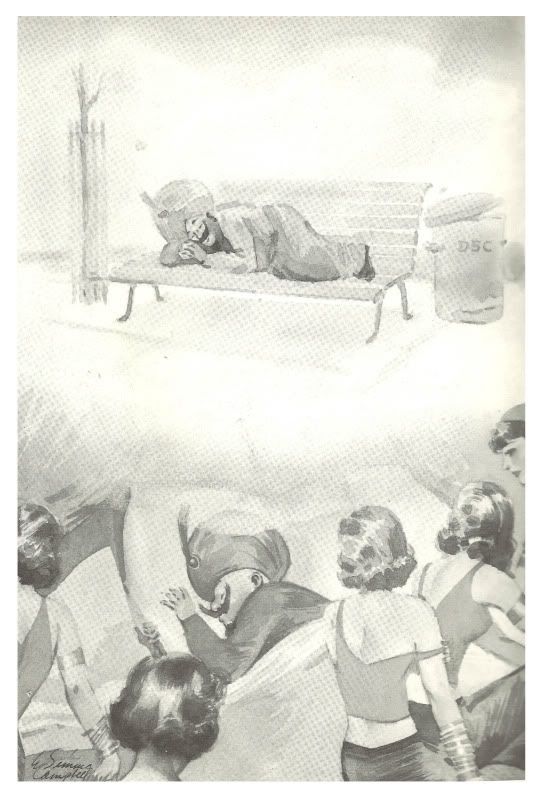 Barbara Shermund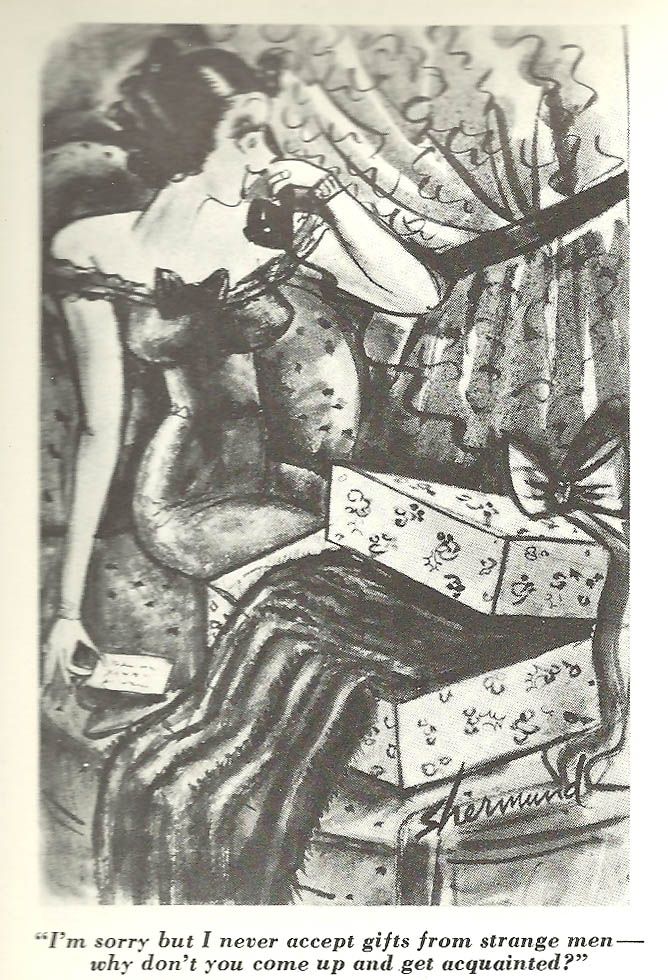 The next two by E. Simms Campbell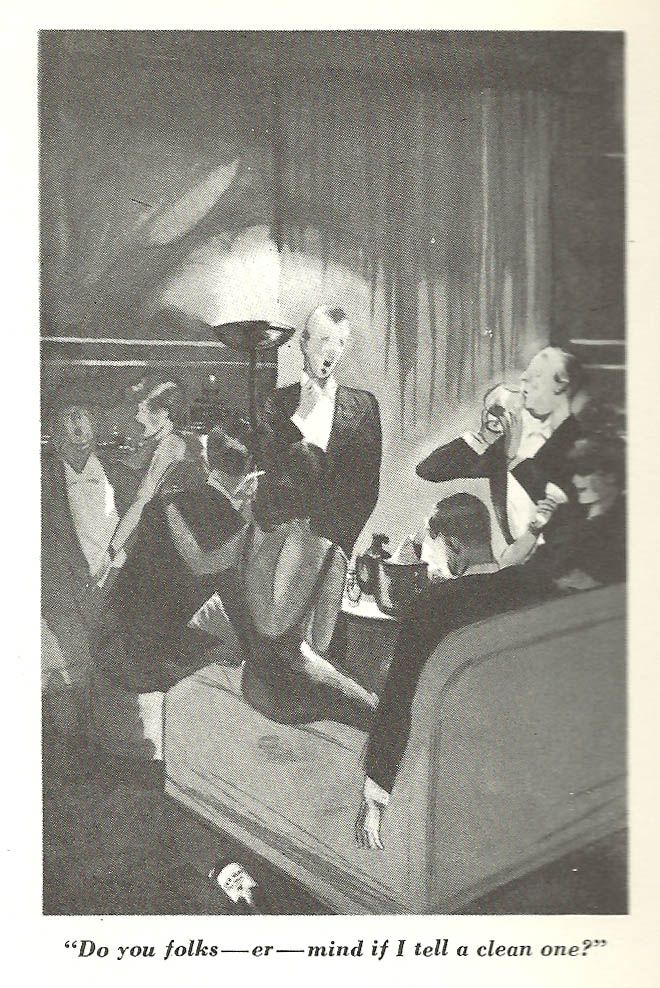 More from
The Esquire Cartoon Album
next week.