Continued from Monday
I started this blog thinking all these magazines were
Mad
copycats but re-reading them shows it's not exactly the case. They copied the format but had different identities. To be sure there were a few magazines that copied
Mad
completely and imitated their artists, but some were different. It's been said that
Cracked
was what kids would buy when a new
Mad
wasn't out yet.
Mad
did have brand loyalty. They often put jokes about themselves in to make you feel you knew them. Their writers and artists were given enough work so that they couldn't work for other magazines like it even if they wanted to and there'd be no way kids would see them in another magazine. This almost implied that there was a
Mad
building all their contributors worked in.
Cracked
aimed for a somewhat younger audience. Something in
Mad
had to be at least four years old before it was repackaged, but
Cracked
's limit was one or two years. They often parodied movies and TV shows more than once and their parodies were more of a humorous version than 'tearing them a new one'. There was almost no scatology, and when they had something like an iron-on, they gave instructions and said "have an adult help you". They didn't put bylines on their articles because they knew their readers wouldn't care.
The main thing about
Cracked
compared to
Mad
is it wasn't any less funny. Here's the second part of the magazine from October 1960 I started posting on Monday.
Everything here by
John Severin
.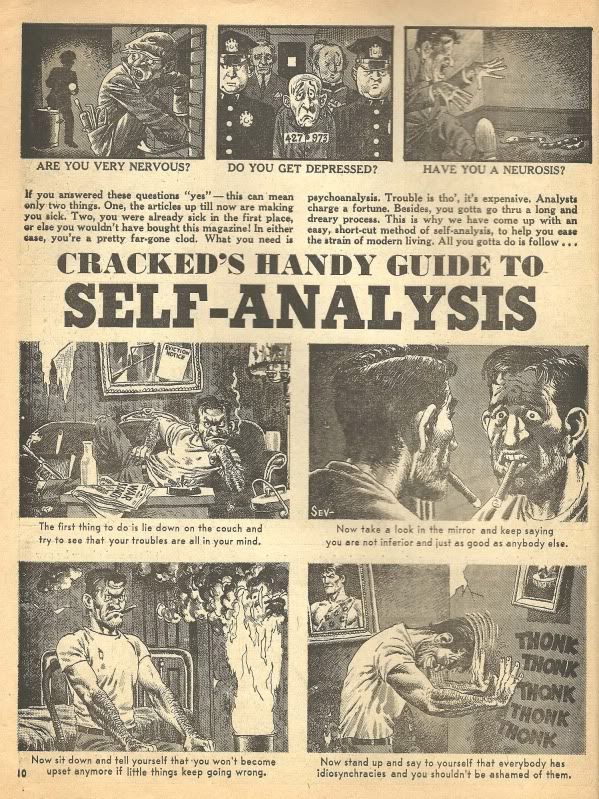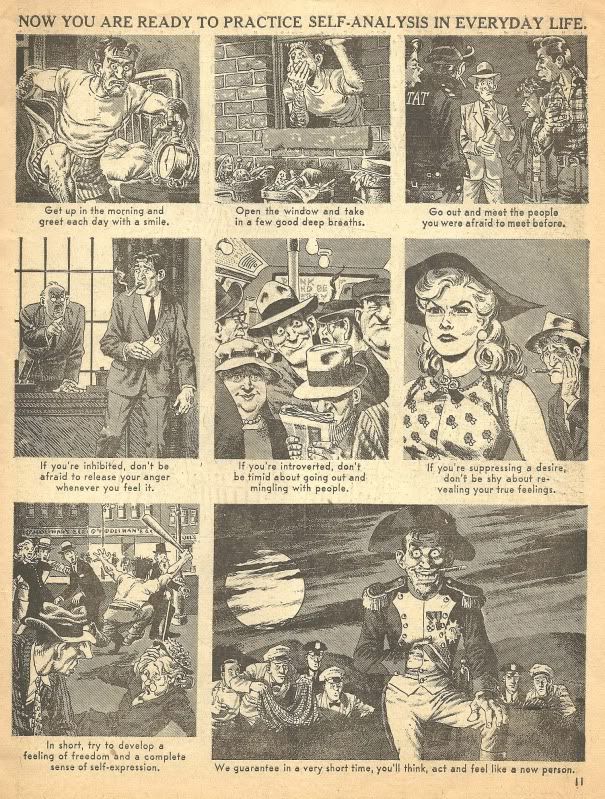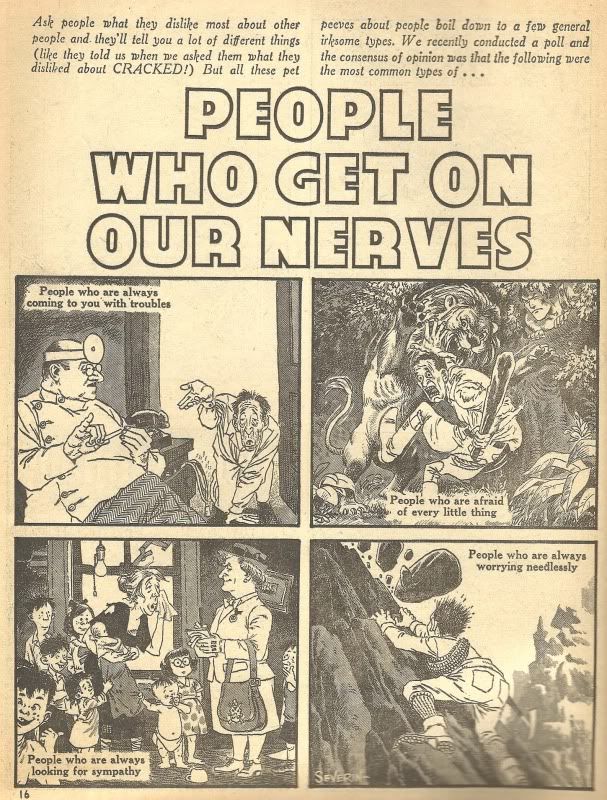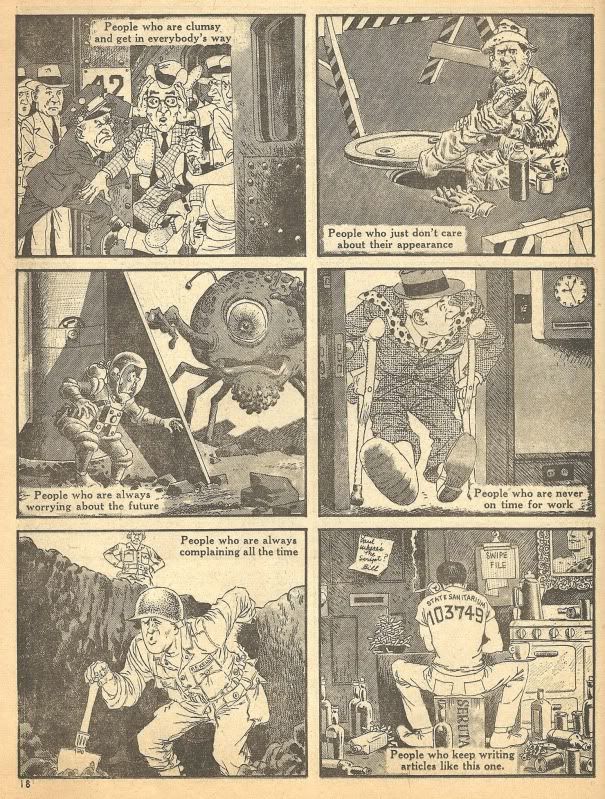 In
Nixon: Ruin and Recovery 1973–1990 by Steven Ambrose
: "On April 27, 1958, Richard and Pat Nixon embarked on a goodwill tour of South America. In Montevideo,Uruguay Nixon made an impromptu visit to a college campus, where he took questions from students on US foreign policy. The trip was uneventful until the Nixon party reached Lima, Peru, where he was met with student demonstrations. Nixon went to the campus and got out of his car to confront the students, and stayed until forced back by a volley of thrown objects. At his hotel, Nixon faced another mob, and one demonstrator spat on him [...]In Caracas, both Richard and Pat Nixon were spat on by demonstrators, and their limousine was attacked by a pipe-wielding mob."
As biographical information has said: "When network censors cut a joke about a 'water closet' (the British term for a toilet), on February 11, 1960, [Jack Paar] received national attention by leaving the show and did not return until three weeks later. "
In
Frank the Voice by James Kaplan
: "This was a period of serious self-doubt about the trajectory of his career. In February 1951, he was walking through Times Square, past the Paramount theater, keystone venue of his earlier phenomenal success. The Paramount marquee glowed in announcement of Eddie Fisher in concert. Swarms of teen-age girls had gathered in frenzy, swooning over the current singing idol. For Sinatra this public display of enthusiasm for Fisher validated a fear he had harbored in his own mind for a long time. The Sinatra star had fallen; the shouts of "Frankieee" were echoes of the past. Agitated and disconsolate he rushed home, closed his kitchen door, turned on the gas and laid his head on the top of the stove. A friend returned to the apartment not long after to find Sinatra lying on the floor sobbing out the melodrama of his life, proclaiming his failure was so complete he could not even commit suicide."
Don't say you never learned anything here.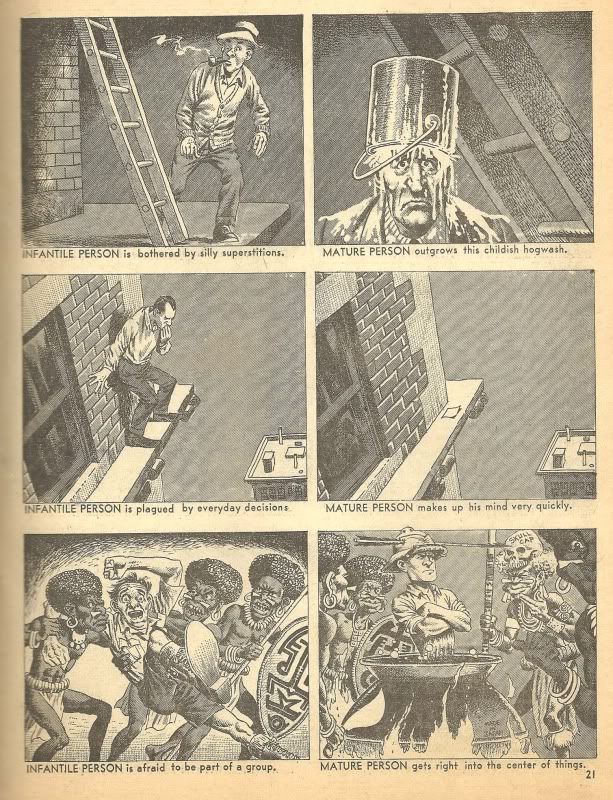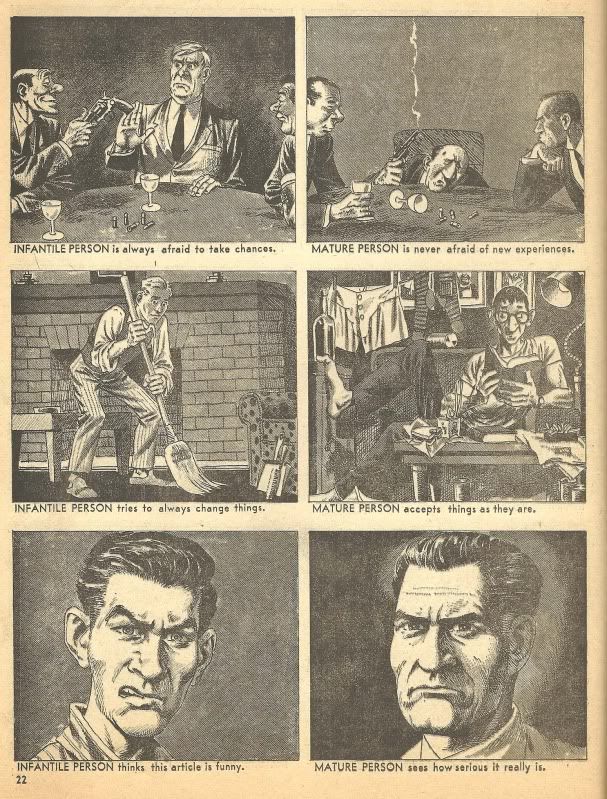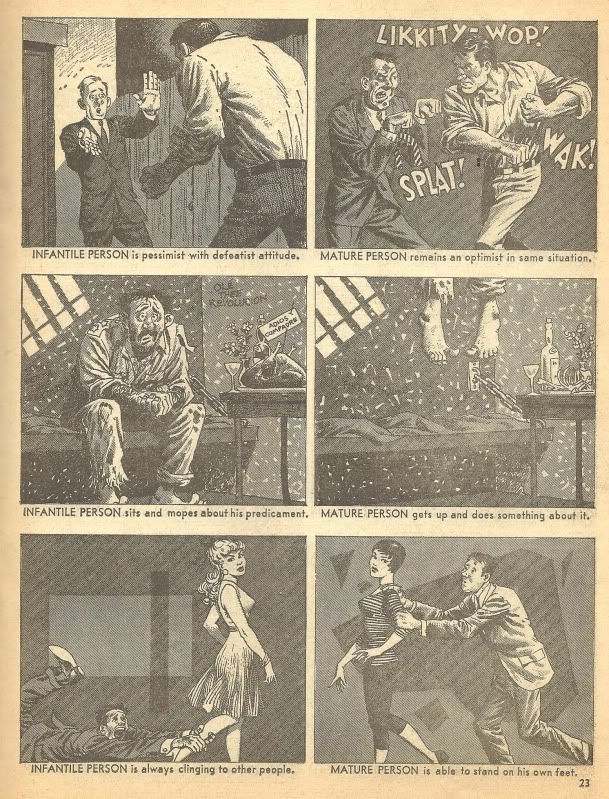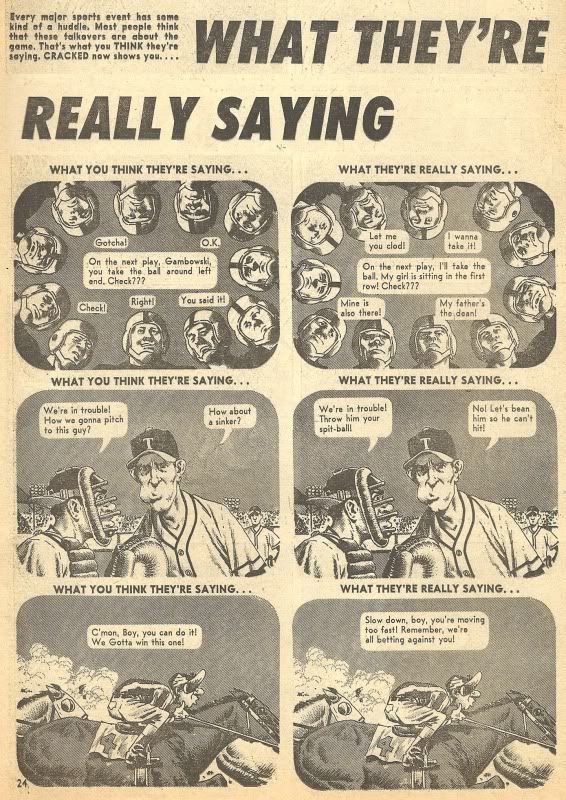 There were lots of paperback collections of
Cracked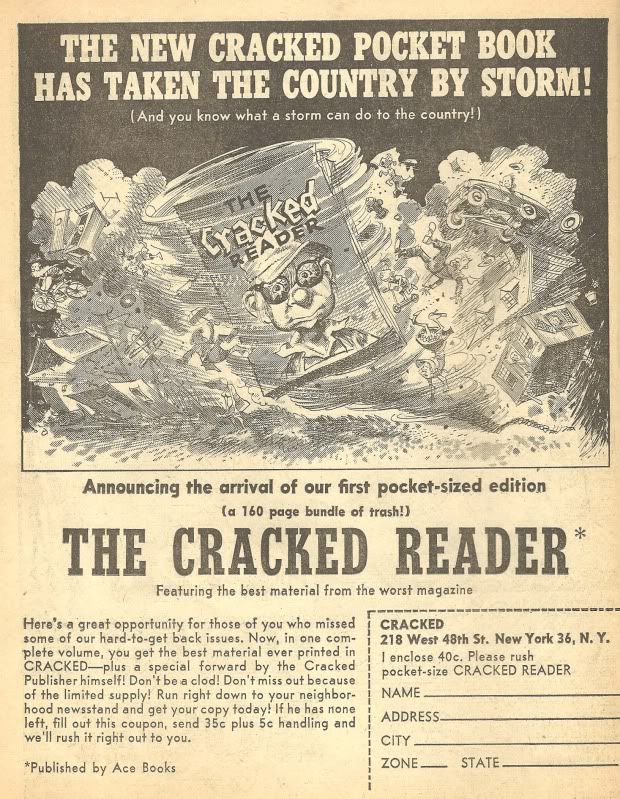 more next Monday