I decided I'm gonna do it. Provide more "liner notes" Why haven't I been doing it all along? I guess I didn't want to seem condescending or something like that. But instead of just playing show, I think I'll do more tell. Looking at other archived collections, there are often notes in the back with some kind of historical context, so maybe I should do it too.
I'm always reading somewhere about how most of the population doesn't know where Iraq is or doesn't know what's in the Bible. I don't know anyone like that, and I'm pretty sure you're not one of these people, but I kind of take it for granted that everyone knows what I know and that's not always the case. I'm not trying to act superior, but not everyone knows who the creators I'm posting are or what a particular reference is.
Besides, this is all free and you can ignore any text you want.
Sometimes comics publishers had humor features in their other books. Mother Ghoul was an imitator of EC's Grim Fairy Tales, horror stories with a humorous version of well-known fables.
Cover artist Hy Fleishman was one of the few people to sign their work in the 50s. Most of what he did was for horror for second and third-rung comic companies like this.
I have no idea what 'Insane' was. Maybe a title they ended up not producing? Or maybe it's a command telling you the condition you should be in while reading.
This is from MYSTERIOUS ADVENTURES #22, October 1954, art unknown.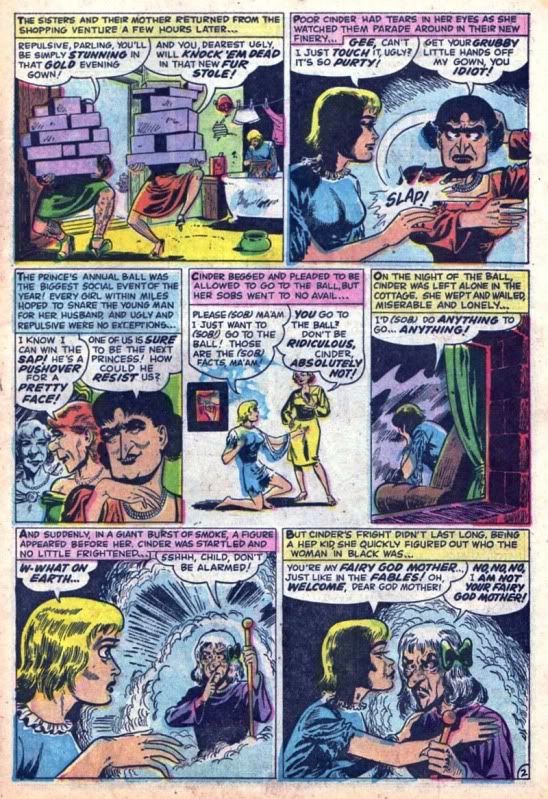 MORE TO COME THIS THURSDAY...