Another issue of
Crazy
(August 1974), another cover by
Kelly Freas
.
The inside front cover was this
Lady Clairol
parody from
Stu Schwartzberg
and Michele Wolfman. The editorial said of her:
MICHELE WOLFMAN, CRAZY's fearsome photographer, is a master of taking sun-pictures. She buys a special piece of paper and holds it up to the sun and then puts it on whatever she wants to photograph. And, lo and behold, the image rises to the surface like...magic. Wow!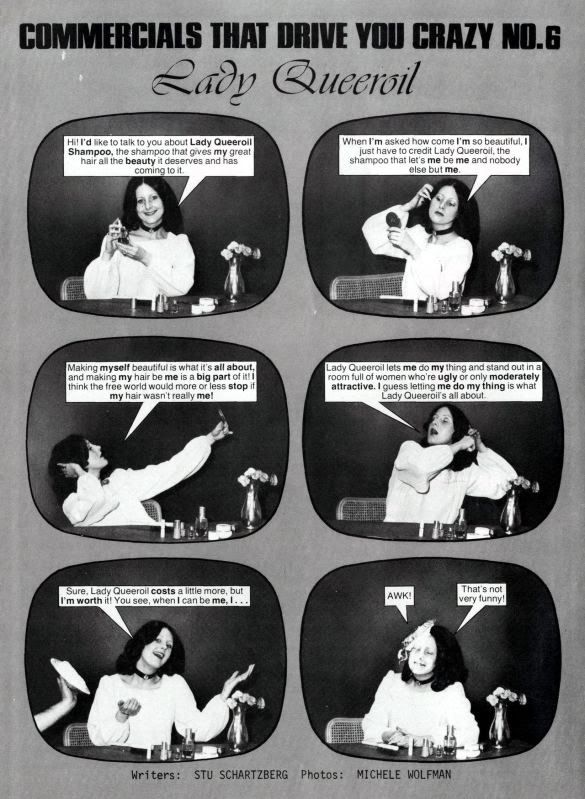 This parody of
The Exorcist
by
Marv Wolfman
and
Vance Rodewalt
has the same name as
Mad
's parody. Oh well, it's not like they got together to consult each other.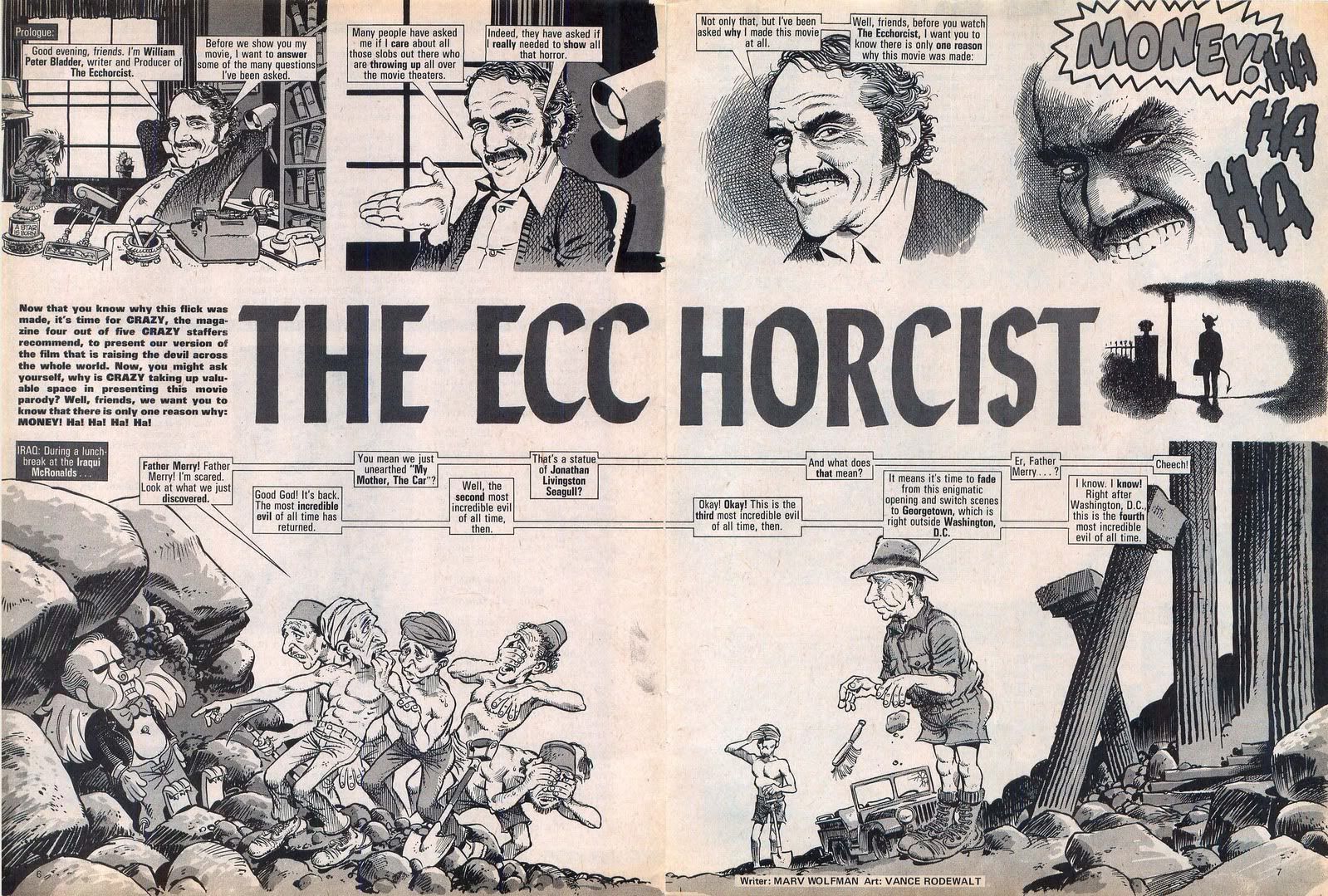 At this time, they were known for their one-page parodies. This one by
Tony Isabella
and
Robert Graysmith
parodies the brief time the stars of
The Sonny and Cher Comedy Hour
divorced and each had their own shows briefly.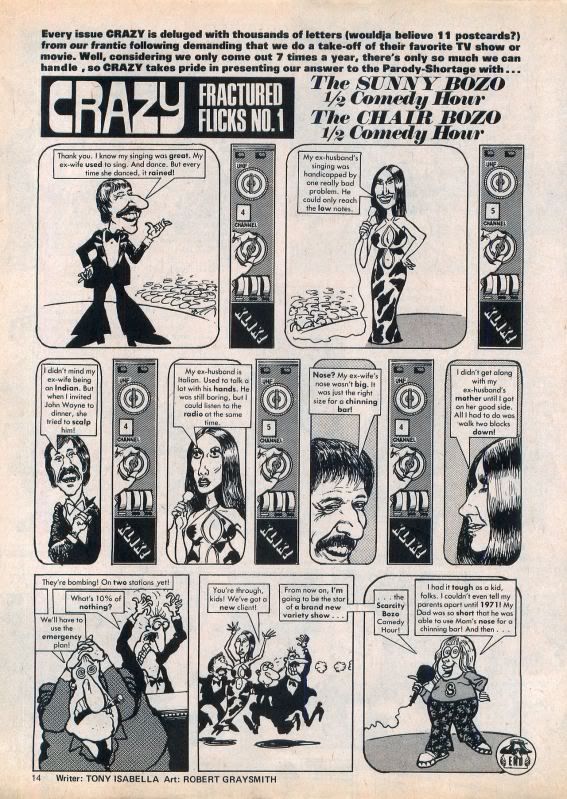 Next their answer to Don Martin from John Stevens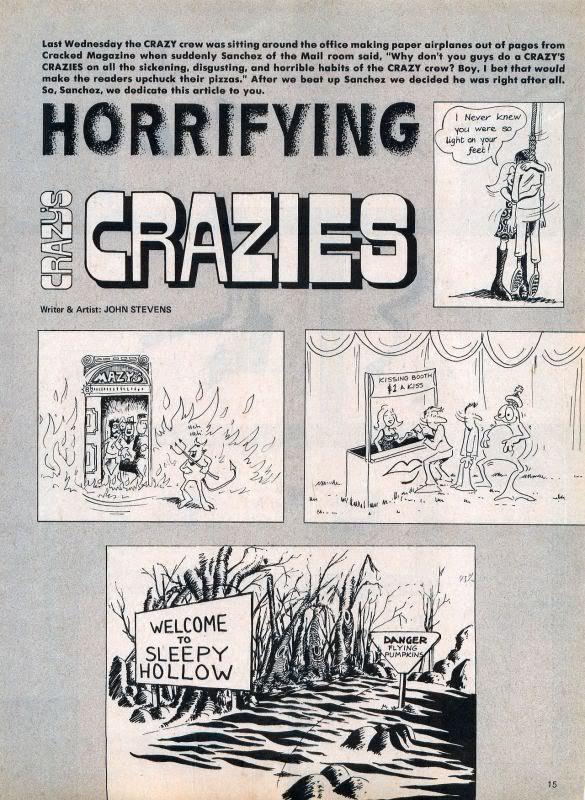 Poli-Tickles
spoofed the news and politicians of the day, here mashing up
Broom Hilda
and
Bella Abzug
.
Another commercial parody of
Euell Gibbons' Grape Nuts campaign
from
Roy
and Jean Thomas &
Vic Martin
.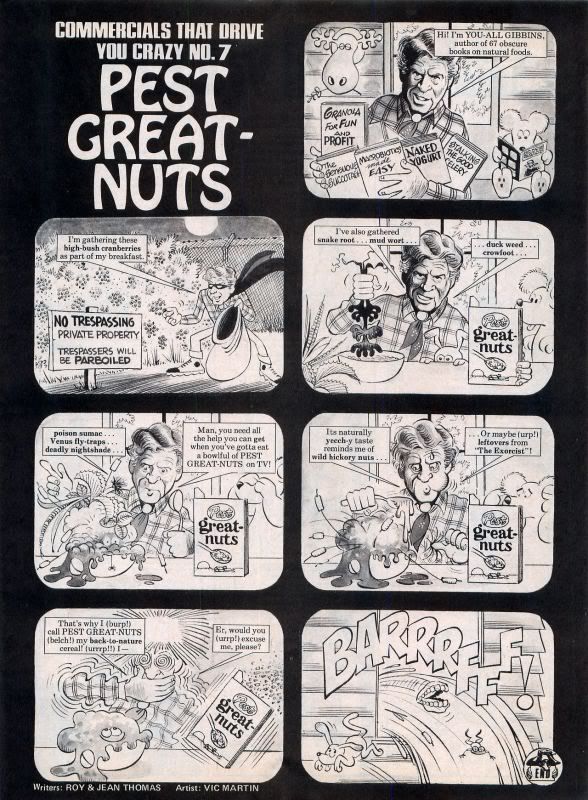 Another one-page movie, this time spoofing
Sleeper
.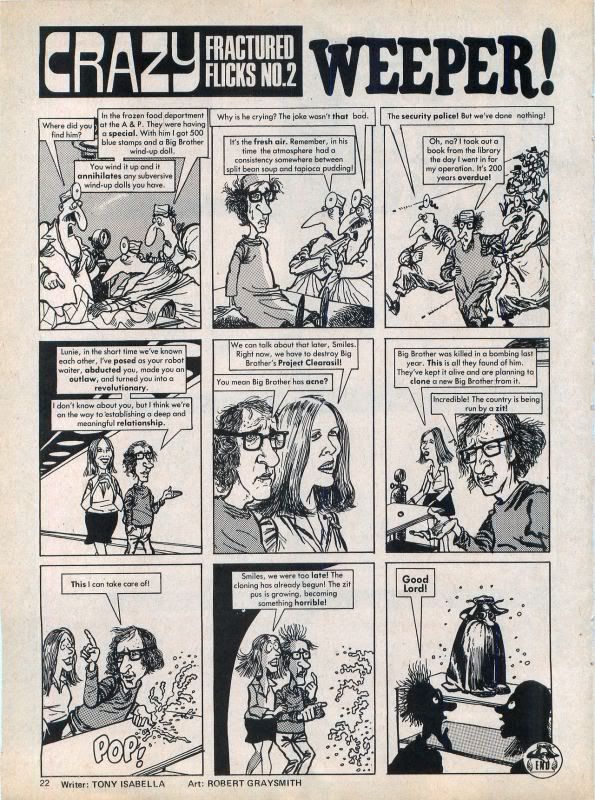 This was from their parody of the
Man, Myth, and Magic
books by
Steve Gerber
and
Marie Severin
, who was also the art editor. The
Who's Who
at the beginning explains what that entails:
As everyone knows, to edit means to cut, splice, delete, etc. What Marie does is take the finished art that one of the many CRAZY artists does and then cuts it into small pieces, deletes some of the panels, and then splices them together in no particular order.
Then they featured the recurring feature
Crazy's Craziest Radio Show
and Bob Foster's
Mooses Through History
, which I showed in the last
Crazy
serialization.
Then a parody of
Papillon
.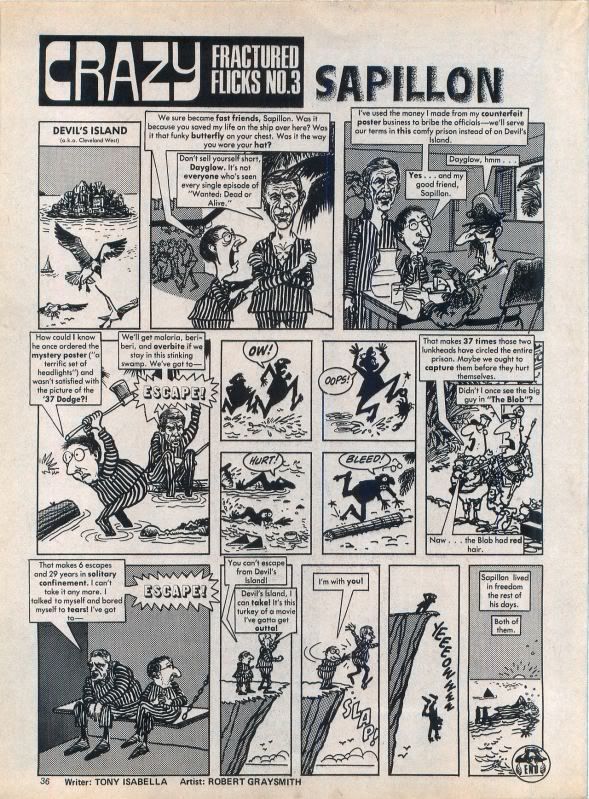 They had something here called
The Ultimate Quiz Show
by Paul Lewis and Marie Severin, which supposedly had contestants which were about to die.
And finishing up their one-page parodies, here's
Toma
.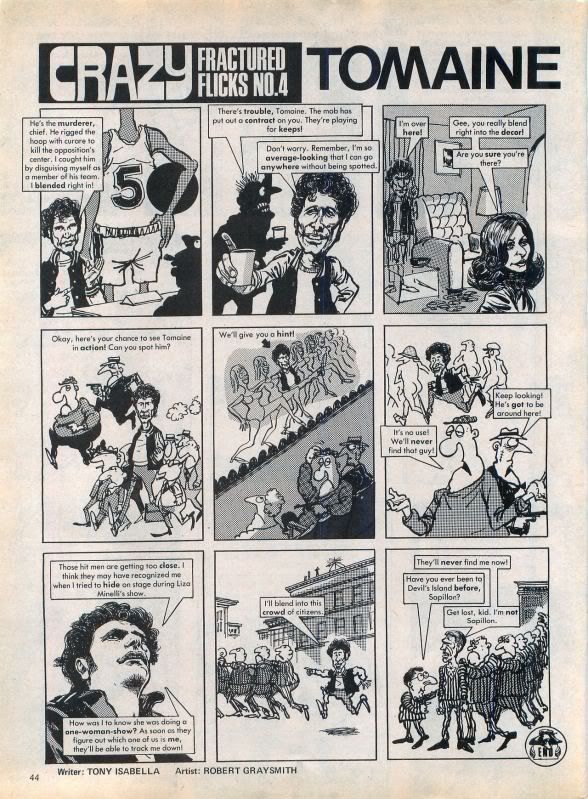 This fumetti is by
Bill Skurski
. He's written up in front:
There's BILL SKURSKI and his infamous hordes at CLOUD STUDIOS, a conglomerate of irate jugglers working out of Newark, New Jersey, who, during daylight hours, pose as the ""King Family, but at night they strip off their outer clothing and appear as the Midnight Streaker. Bill put together the mass confusion we tenderly call "Repossessed". For those of you who want to meet Bill in person, you can't, he comes only video-taped.
Their version of the
American Graffiti
poster, which was drawn by
Mad
artist Mort Drucker.