Here are more cartoons from the first
Esquire
of Fall 1933
E. Simms Campbell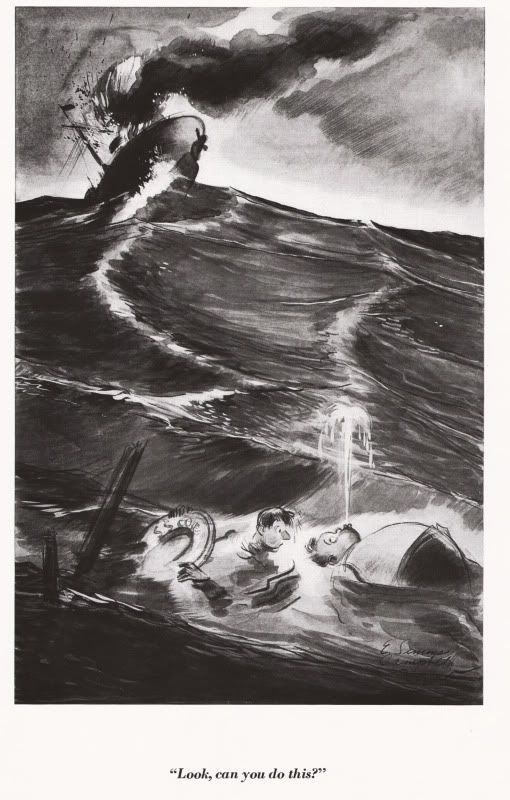 Ty Mahon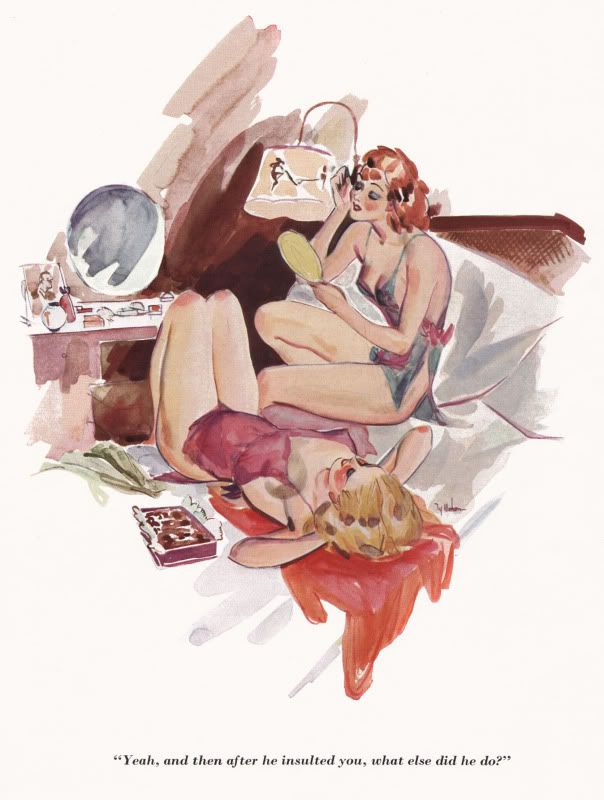 Two from
John Groth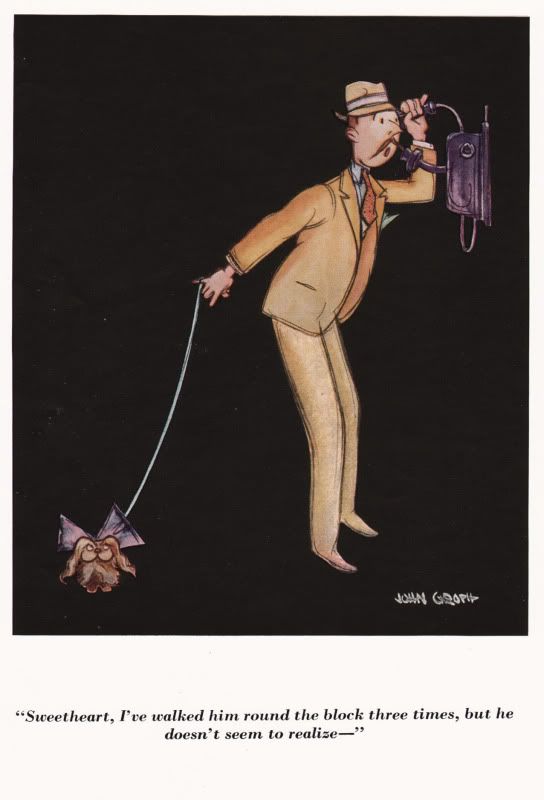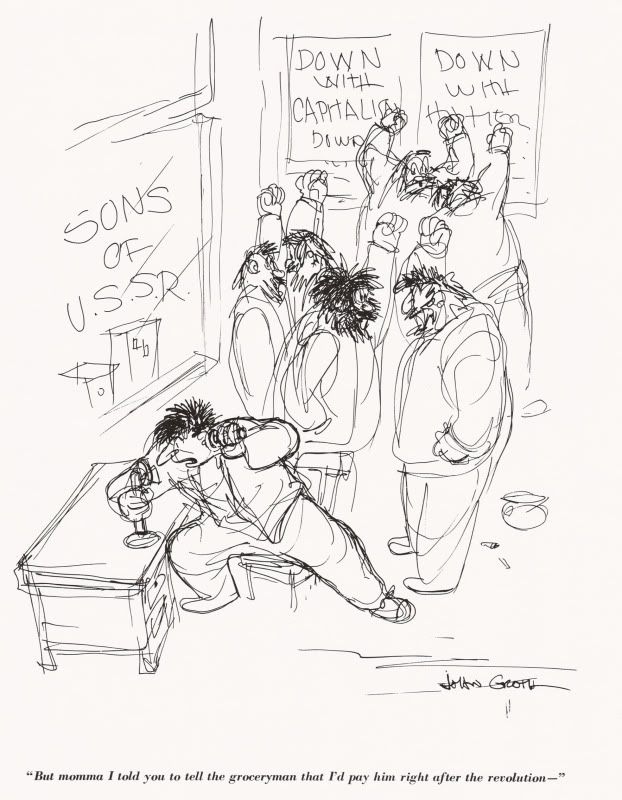 Witold Gordon
E. Simms Campbell
At that time, it was acceptable to show nudity in mainstream media as long as the subjects were not Caucasian.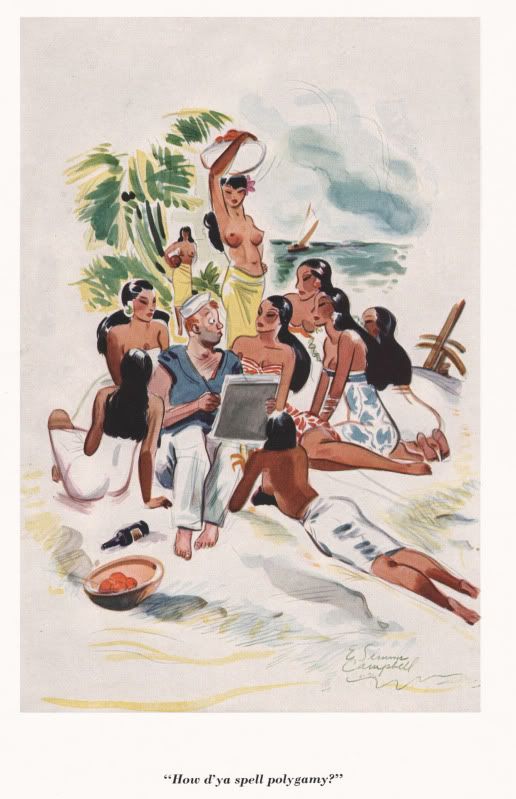 John Groth
William Steig
As the 1980
World Encyclopedia of Cartoons
says of him:
WILLIAM STEIG (1907-*)
American cartoonist and illustrator born in New York City on November 4, 1907. William Steig attended the City College of New York (1923-25) and then studied at the National Academy of Design (1925-29) In 1930 he submitted some of his work to the
New Yorker
, and editor Harold Ross liked it enough to hire him as a staff cartoonist for the magazine. In addition to the
New Yorker
, he has contributed art to the many mass-circulation magazines of our times
Steig refers to himself as a humorous artist, probably because of his continuing interest in more formal styles of representation. He works in watercolors as well as in ink and wash, and his watercolors can be found in the collection of the Brooklyn Museum. Steig is also a wood sculptor whose pieces were found in one-man shows at the Downtown Gallery in 1939 and Smith College in 1940 and today are in the permanent collections of the Rhode Island Museum in Providence and the Smith College Museum in Northampton, Massachusetts.
Steig has been an exceptionally durable figure in the field of cartoon art, but hardly a static one. His early work for the
New Yorker
was formal in style and strong in the elements of depth and perspective, perhaps due to his parallel involvement in the plastic medium of wood carving. At first realistic, his style began to shift in the 1930s toward caricature and the flat, nondimensional conventions of comic art. A fine example of his exploration of this mode is a set of primitive, deliberately childish panels from the
New Yorker
entitled "A La Recherche du Temps Perdu"; here he renders recollections from his own childhood in a fashion inspired by Proust. It is a wonderful piece, both as art and as concept, and it is the sort of work that marks Steig as one of the truly thoughtful and innovative artists in a field where being funny need not be the only objective. Like his colleague
Steinberg
, Steig depends a great deal on pure style. That is not to say, of course, that Steig is not a funny cartoonist; but in recent times he has shown an increasing tendenct to abandon the standard format of cartoon and related caption in favor of small, winsome drawings in the expressionist mode.
Collections of his work, both serious and comic, Include
About People
(1939),
The Lonely Ones
(1942).
All Embarrassed
(1944),
Small Fry
(1944),
Persistent Faces
(1945),
Till Death Do Us Part
(1947),
Agony in the Kindergarten
(1949),
The Rejected Lovers
(1951) and
Dreams of Glory
(1953). He is also a creator of award-winning children's books, including
Sylvester and the Magic Pebble
(1969), which won the 1970
Caldecott medal
;
Dominic
(1972), which won the 1973
Christopher medal
;
Abel's Island
(1976), a
Newberry
honor book; and
The Amazing Bone
(1976), a Caldecott honor book.
*He died in 2006
John Groth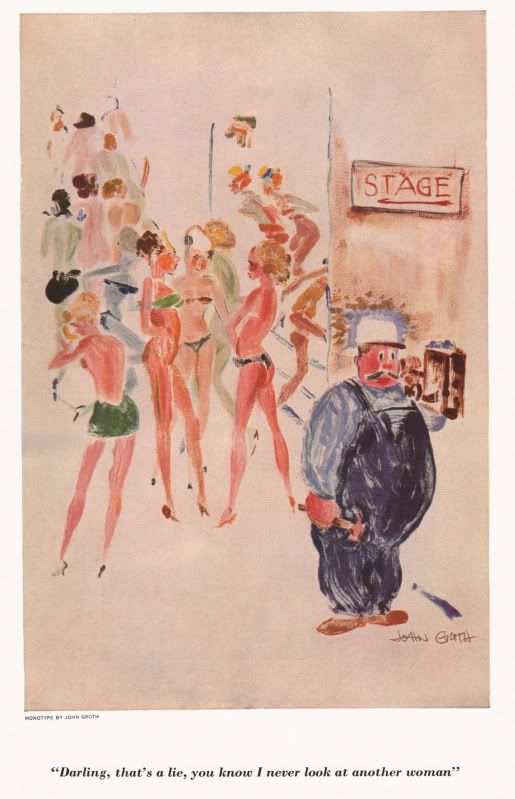 Howard Baer
George Petty
The final installment of this particular issue next Saturday