I published the
5th volume
of this series a few months ago. I found this, the first volume from 1967, at a library book sale a few weeks ago, so I thought I'd share it.
Much of the introduction is about the particular contributors to this volume, which I will use for each piece when that artist comes up. But of the other things editor John Bailey writes:
"In this collection of some of the great cartoons of two continents, it is interesting to note the differences in style and technique between American and European cartoonists.
"In general, the American approach to humor is head on, forthright and topical, whereas the European approach is philosophical and whimsical. The older civilization perhaps produces the longer view.
[…]
"All the cartoonists in this book are experts with a clear knowledge of the incongruities and humor of life and character. To them, all the men and women are merely players in the theatre of the absurd.
Curtain going up."
I'm not sure who did this. It's from the foreword.
These next two are by
Guillermo Mordillo
for
Paris Match
.
Jules Stauber
for
Bärmeier & Nikel
"ffolkes has an ineffable elegance, and is a master of irony whose subtle humor is expressed with the facility, ease, and charm of great draftsmanship. Each of his drawings is fascinating, its content lush and full and varied, yet it never descends to mere illustration"
Some readers might notice he used the name of another cartoonist in this book.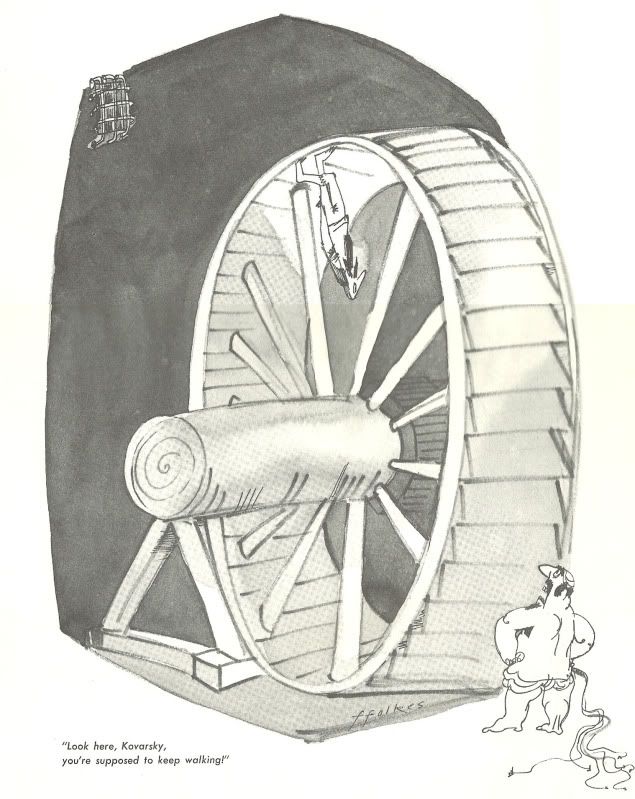 "Claude's humor has a slightly sharper cutting edge, perceives foibles, hypocrisy, and phonyism, and, with a dashing style, explodes them all."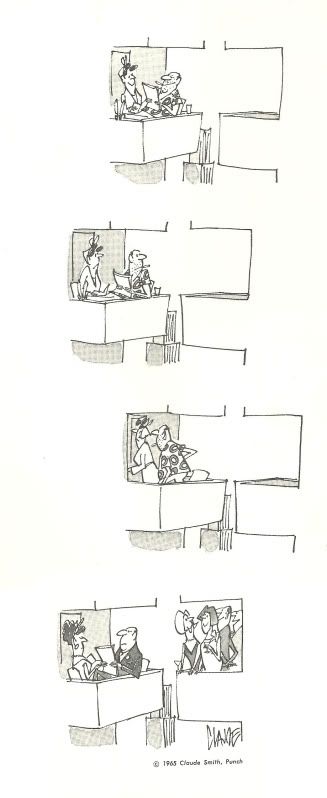 "Syverson's impudent drawings of the frantic and animated Little Men recall the Marx Brothers."

Robert André for
Paris Match
.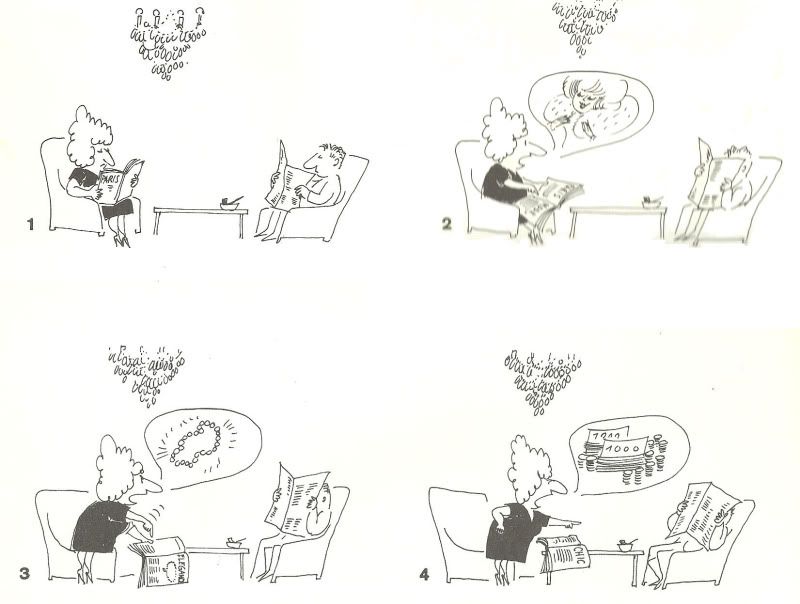 Michael ffolkes for
Punch.
"Robert Day has a radar beam on the domestic scene and the daily rat race, and is amused, rather than bitter, despairing or carping."
More next Thursday.