This issue of
Cracked
was one of the first things I bought myself.
Usually, the cover was done by John Severin. For this issue, it was different.
According to the book
If You're Cracked, You're Happy
: [His wife] Michelina Severin explains, "Three of our daughters at different times worked on
Cracked
, like on the
Hang-Ups
. They didn't do a whole lot because they were so young, but they were able to do it because of John. I'll tell you a story about one of the covers. There was one about 1978 that was signed "C.E. Severin". That was our teenage daughter. What happened was that John had an unexpected surgery and he was supposed to be working on the cover, but of course he wasn't able to do it. I said to Bob that we would be happy to let one of our daughters do it. He said, "Well, do you think she could?" and I said, "Well, let her try it." What happened was that Cathy did do the cover while John was in the hospital. Howard Nostrand was an artist over at
Cracked
. What happened was, unbeknownst to her, was that Bob said to Howard, "I don't know how well this young girl can do the cover. Could you draw something in case we can't use it?" So Howard did and he called up later and said that it was the first time he had ever been knocked out by a girl." And Catherine did the cover."
A regular feature they had, in my childhood at least, was the "pull-out poster" on the front and back covers.
As you probably heard,
John Severin
died last week. He worked up until his death in every genre of comics, most notably war and western comics, but he was also a top artist for
Cracked
, doing several features in a single issue. Perusing this blog can turn up several examples of his work.
Cracked
, being aimed at a younger demographic than
Mad
, would usually parody a TV show several times, and use the name of the show instead of a pun on it. They rarely did movie parodies. Here's the late John Severin's portrayal of
Diff'rent Strokes
.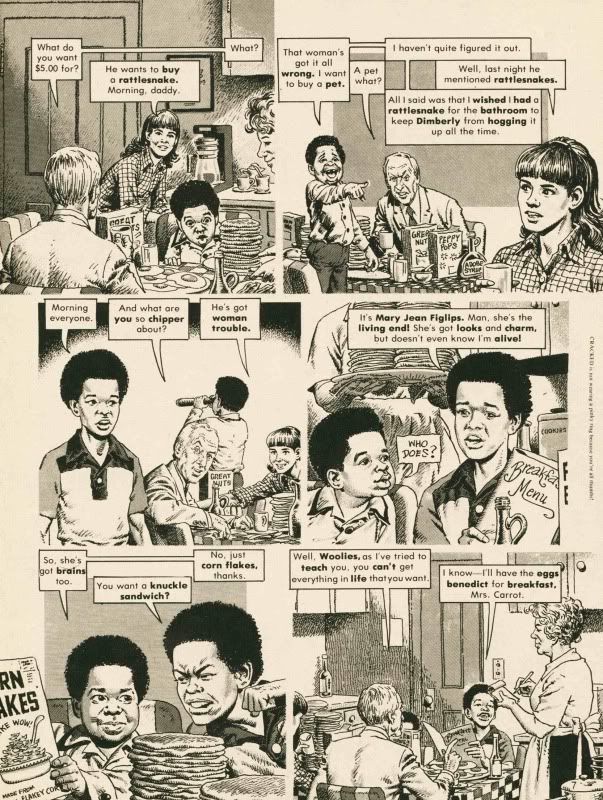 The person in the last panel is supposed to be equally diminutive TV star
Hervé Villechaise
.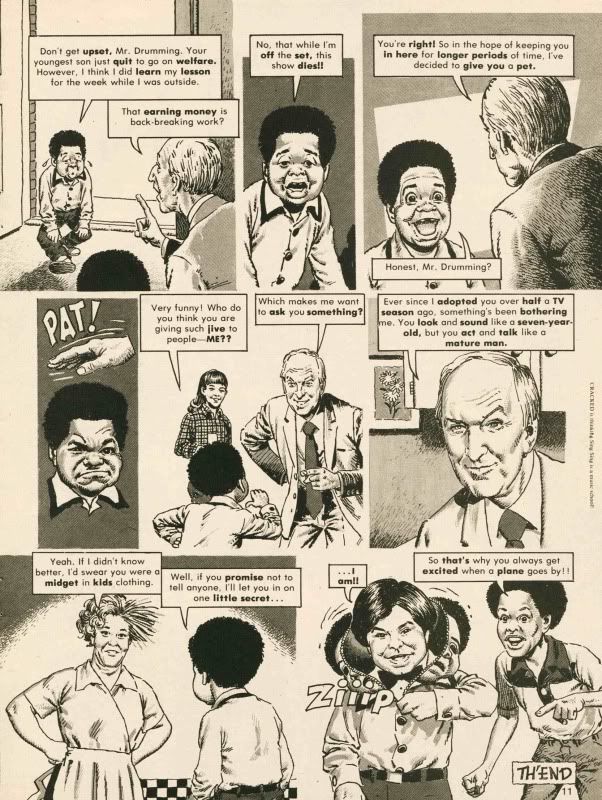 As a kid, it bothered me that
Diff'rent
was spelled differently when it didn't change the pronunciation, but I guess they needed a way to give the title an "urban" feel. Art by
Howard Nostrand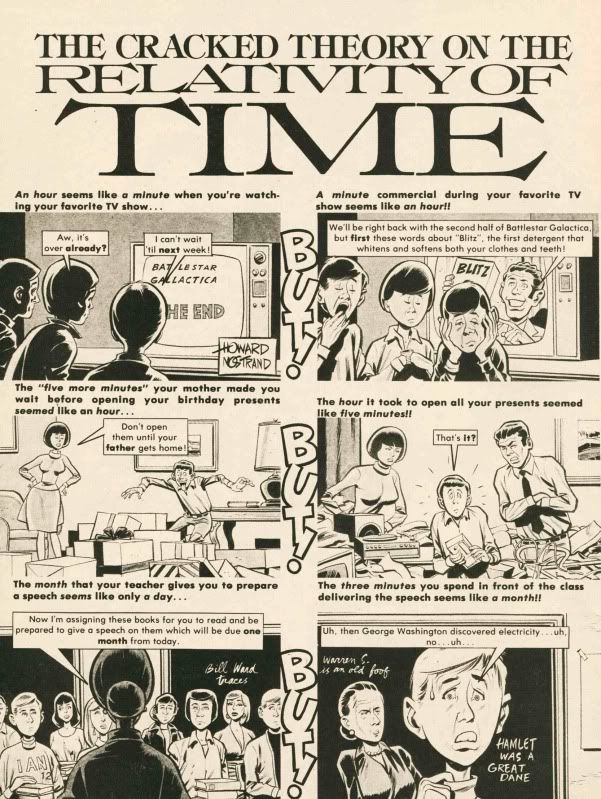 more pages on Thursday.