My publisher e-mailed me a questionnaire to fill in the blanks. It was already things he knew and he's even mentioned in third person, but we hoped it would help sell the upcoming
Magic Whistle
through
Diamond Distribution
. He wasn't able to buy space in their monthly phone book/catalog, so I've expanded it and I'm using it here for now. Hopefully this will lead to a bigger interview somewhere. A somewhat compromised version of this might appear in the reprint of
Oh, That Monroe
next year.
How old were you when you started self-publishing? Was there a 'wow' moment when you realized this was something you could do?
I didn't know this was something I could do and now you tell me. Actually, I did my first self-published comic when I was ten, so when on Wikipedia where it says I've been doing comics since 1980, I'm actually not that old. I was doing things in high school with this guy Bobby Weiss as sort of as a dress rehearsal for what I wanted to do eventually. I knew other people had jobs as insurance salesman, accountants, or whatever. As a fan of comics and cartoons, I'd read about how the artists would say they didn't have to get up early or go someplace ever day, which sounded good to me.
What were some early experiences you had with other people publishing your work?
I started out writing gags for Topps while still in college. They were riding on the success of
Garbage Pail Kids
and able to do other series because of that.
Mark Newgarden
was a creative director there and hired people he knew like
Drew Friedman
to work on the many series he developed, in the tradition of the different novelty cards from the 60s by people like
Wally Wood
,
Jack Davis
, and
Basil Wolverton
. Mark lived near me and I had visited him a few times and I guess he saw something in me I still have yet to find myself.
Screw
and
New York Press
were a cartoonist's best friend in the 90s. Ask anyone who was living in New York at the time. I was also doing work for the now-defunct
Nickelodeon
magazine and sometimes had sketches for pornographic art on the back of strips for kids. Early on I used a pen name for
Screw
work but stopped because everyone was doing work for them and it didn't really prejudice other editors. I was a knight on
Between the Lions
and wrote an issue of
Celebrity Sleuth
so there's always been that dichotomy. It's interesting the difference between then and now. For color work I'd have to make stats and wait for them overnight, then paint the back of them with acrylics and drop them off at the office in person. Now I can do everything in Photoshop at home (sometimes naked even) in less time, can be hundreds of miles away, and just e-mail a file with the finished art. For larger work or multiple files I can just send a disk of the finished work and nobody else has to deal with the originals.
Another obsolete way of coloring was Ruby-Lith, overlays for each red, blue (cyan and magenta,if you want to be technical) and yellow, and you wouldn't see the results until the thing was printed. One of my first jobs was a
Screw
cover that had a person being fisted with a brown substance coming out of them. When it was printed, either I made a mistake or they did. The brown which was meant to be a combination of the color overlays was printed as red so it looked like blood.
How did you discover the small press network? What were some memorable experiences with that?
As a kid, when my family went to a city, I'd want to go to a comic store when there were only a dozen in the whole country. They had comics other than the comics code-approved Marvel and DC fare, which looking back were just R-rated versions of those things. Comics like
Cerebus
and
Flaming Carrot
were the strangest, most esoteric things I had ever seen. (I was already collecting undergrounds, but I saw them as more like
Mad
or
National Lampoon
). Sometimes they would plug other comics that were also xerox comics. I'd send away for them and they also had plugs for even more obscure comics and eventually I found out there were other high school kids doing xerox comics too, often with print runs like ours of only 20-50. There were magazines that just had ads and press releases for those comics. We also realized you could make comics by cutting them or folding them in half, something that appealed to us when the only method available was places that charged 10 cents a copy, fifteen cents for colored paper.
Later, when I went to the School of Visual Arts there were people I had more in common with I could talk to personally and not just through the mail. Many were others impressed that you could make your own comics and zines with a xerox machine. I did a magazine that way with
Tom Hart
and later Marc Arsenault. It had mostly people majoring in illustration and fine arts. There was a cartooning major at the school I went there for, and most of the students in those classes were aspiring Marvel and DC artists, which I wanted nothing to do with. Not the students, just that kind of cartooning.
Harvey Kurtzman
and
Will Eisner
, two of the most famous comics artists of all time taught there, and I was disappointed that they pandered to the superhero comics wannabes who didn't even know who they were.
It was impressive that anyone ever made comics that at the time before printing technologies like different inks and binding and papers were cheaper, or before just the ability to scan a comic and put it online for free with an audience however big or small.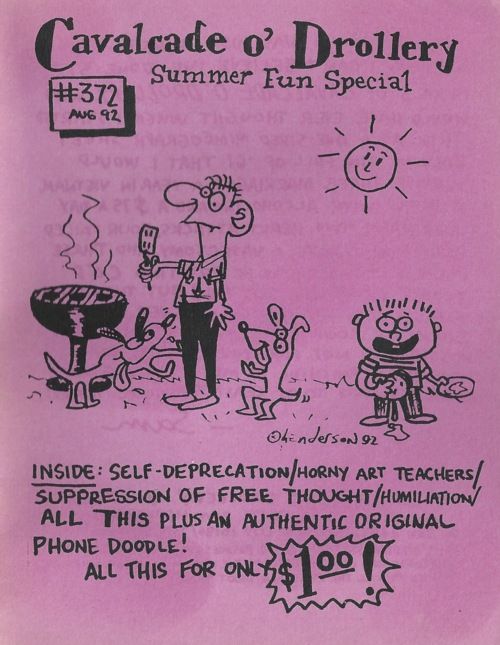 Magic Whistle
#1, your first mini-comic- how did that come about?
I just wanted an audience for whatever cartoons I was doing. I was doing mini-comics that had different titles and I needed an overall title so people could keep track of what I did with a numbering system. Most comics then were one-person anthologies. The goal was to eventually have this be something on slicker paper and sold in stores like
Love and Rockets
or
Neat Stuff
(what became
Hate
). Mini-comics are kind of the open mic for that kind of thing. The name came from jokes my roommate Mike Rex and I would make about theoretical TV show plots. There were still people all over the country doing mini-comics that we traded with each other through the mail except now they were in their twenties and didn't aspire to work for superhero comics either.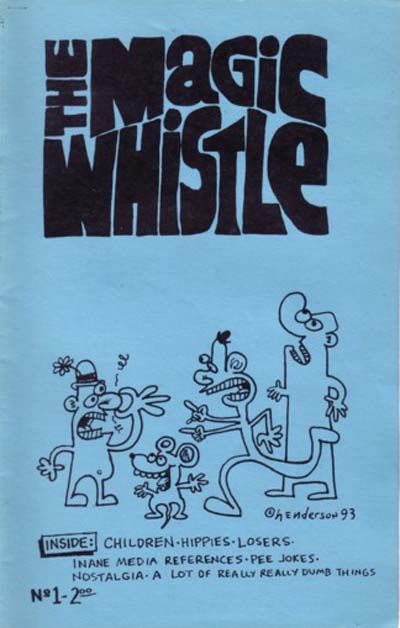 Magic Whistle Vol.1 #10
was the first non-xerox regular comic format issue. What's the story there?
It was the next logical step. Each issue had increasingly more readers and I didn't want to keep doing hundreds of copies of my comic and folding and stapling them myself. I was still paying extra for reductions. Some clerks didn't even know what you meant when you said you wanted copies on both sides. When I made copies myself you had to pull scams like slamming the xerox counter on the table to make it go back to zero. By that time I was having work printed in mainstream publications, and printing offset was cheaper for a higher print run anyway.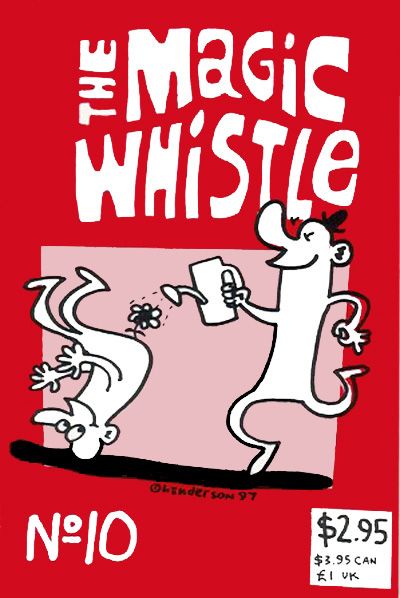 You restarted the numbering with Vol.2 and Jeff Mason publishing. What's the deal with that?
Jeff Mason was a fan of comics and had some extra money from his day job. He decided to give a bigger audience for work he liked. People were seeing my work in other places but I didn't have a comic of my own, the ultimate achievement for any cartoonist. Going back to number one seemed the right thing now that twice as many people could see it. If I were to continue with number 11 people would wonder where the other ten issues were that were just self-published comics I didn't make enough copies of to have in stores.
The Star Wars Insider
editor put out a collection of your small press comics? That's crazy! What's the scoop?
He was doing zines and other publications as well and now that he had a bigger platform he could showcase the work of his friends. Sometimes he'd even find a way to plug things in the magazine by making even the most miniscule
Star Wars
connection. The work I mentioned before under different titles and early
Magic Whistle
s had only been seen by people I knew, though some considered it just as good as anything companies like Fantagraphics were publishing.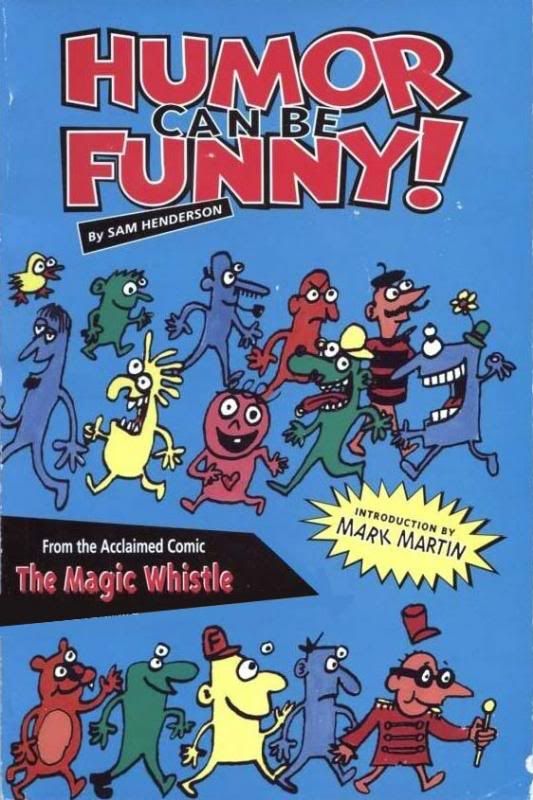 And anything else you care to add in-between ?
Comics have changed a lot since I started. There aren't as many xerox shops anymore and they're not necessary. There aren't as many "floppies" anymore, most cartoonists start with full length books. Comics have fewer "BAM! POW! Comics aren't just for kids anymore!" magazine articles. It used to be that comics weren't considered a credible medium, just like film was fifty years ago. Comics is no longer such a sausage party. Things that used to be available only at comic stores you can now get at Barnes and Noble or through Amazon. The bigger "independent" companies don't consider their competition to be Marvel or DC, but rather companies like Pantheon or Penguin. There are more college level courses, even whole schools that teach cartooning. San Diego used to be the only convention in existence, now there are more that aren't just fall TV previews. People like
Dan Clowes
and
Chris Ware
, once only the subject of those "BAM! POW!" articles are now doing
New Yorker
covers. Creator driven comics, unlike comics that are basically movie ads, have a fine-art aesthetic and I'm doing my best to fit in. I go back and forth wondering if what I do is comics, or comedy in comics form.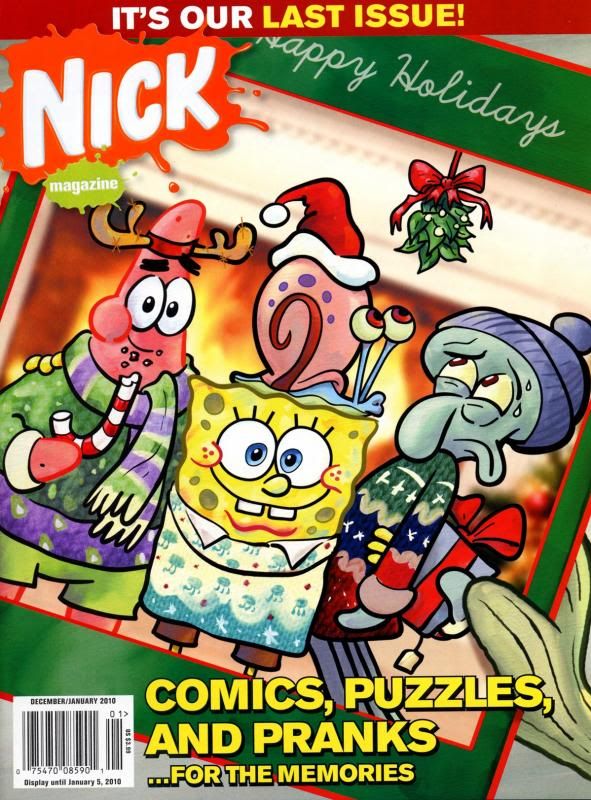 What's going on with you now? What's the direction of
Magic Whistle?
I've been around the block. I've been in mass-market magazines, nominated for awards, was even a writer for
SpongeBob Squarepants
, and have gone back to self-publishing. I even went a year without doing any comics at all because I had a girlfriend that wanted co-credit for everything I did. In comics circles I'm either God or persona non grata. After years of depression and bitterness from no longer being wanted in animation and having it start to show in my work, it's time to get back on that horse. I've returned to a cartooning world where everyone is at least ten years younger and I've fallen off everyone's radar.
In addition to
Magic Whistle
, September will see the release of
Scene But Not Heard
, a collection of the strips I did for
Nickelodeon
magazine for over 16 years. The magazine, despite having hundreds of thousands of readers, was the best-kept secret in comics. Name anyone who did comics outside of the franchise market before 2000, and chances are they were in there at least once. Before my more "adult" work was visually attractive to kids when I was at conventions. I personally don't care about kids seeing it, it's nothing they haven't seen before. The upcoming issue has a story with a mentally retarded fish being gang-banged but for the most part I do nothing that wouldn't be seen in a PG-13 movie or on basic cable. The last thing I need is for me or anyone selling my comic to be charged with selling smut, though. Usually kids are with their parents who I ask to screen it first. Now people who read the
Nickelodeon
comics as a kid have children of their own and finally I'll have something to for both of them.
I'm doing
Magic Whistle
again to continue where I started. I tried doing my stuff in book form for a while but it didn't seem right. Most my strips are less than four pages. I like having letters and guest artists. I'm still too big and too old to be back in mini-comics. No offense to comic collectors, still the majority of my readers, but I think what I do is more for people who watch a show like
The Colbert Report
than those who read superheroes. Right now I'm attempting to put out
Magic Whistle
a few times a year and be in other anthologies. And be in publications that pay actual money, so I can afford to still do
Magic Whistle
. In order to do that I'm giving a few pages in the issue to others, from newbies to big-time illustrators and everywhere in between. Jeff Mason doesn't have the enthusiasm as publisher he began with and quit publishing gradually as his artists went on to bigger publishers. It's good to have a new publisher that has known me for 25 years and knows the market and how I think, so I can continue doing
Magic Whistle
the way I want. It makes me feel better when someone like
Kim Deitch
wasn't really known until his forties. I plan to still keep doing
Magic Whistle
no matter what. This comic is my most uncompromised work and it's where I belong. I have a few recurring characters but the main character is
me
.