The humor journal/zine
The Lowbrow Reader
now has a collection of all its articles called
The Lowbrow Reader Reader
. Amongst contributions from
John Waters
and
Patton Oswalt
, articles about Adam Sandler, Don Knotts and
CAR-Toons
is some film reviews I wrote a few years ago.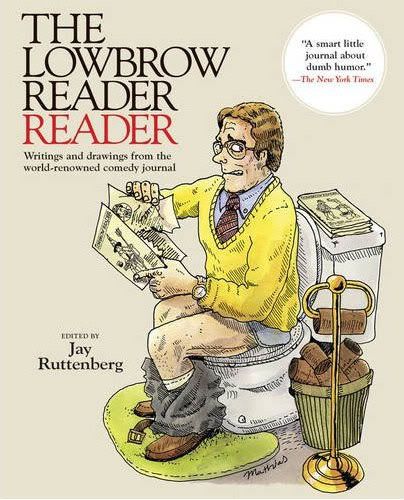 Here is an excerpt from my review of
Up The Academy
.
Possibly envious of National Lampoon's crossover success,
Mad
sponsored a movie two years later. Unlike
Animal House
, written by
National Lampoon
staffers,
Mad
apparently agreed to put their name on a project already being developed by parent company Warner Brothers.
Mad Magazine Presents Up The Academy
was
Animal House
at military school.
Four kids are sent to Weinberg Academy for disgracing their families. One is Chooch (Ralph Macchio), who wants to be a lawyer instead of joining the mob with his dad. Oliver (J. Hutchinson, later an executive at 20th Century Fox), son of a pro-life mayor, knocked up his girlfriend (Stacy Nelkin, upon whom the Mariel Hemingway character in
Manhattan
is based) and they're both sent away to salvage his father's re-election. Everyone sneaks out at night and gets caught by the tyrannical Sgt. Liceman (Ron Leibman, who had his credit removed). He threatens to blackmail Oliver, but they turn the tables on him.
Though an obvious imitation of
Animal House
, it's apparent that screenwriters Tom Patchett & Jay Tarses (Carol Burnett, Bob Newhart) didn't "get" what they were emulating. There's something off about much of the humor, such as the pederastic and predatory Sgt. Sisson (Tom Poston), or the students openly masturbating during a class taught by sexy artillery instructor Miss Bliss (Barbara Bach). Potentially funny gags are ruined by Robert Downey Sr.'s detached direction, which suggests
Airplane!
directed by Robert Altman. Downey's career had declined precipitously since his days as an underground filmmaker in the sixties. However, this makes for some unintentionally brilliant comedy torture, such as one piece involving a preppy vocal group whose off-key notes break everything glass in a scene that goes on for three minutes.
Up The Academy
closed its first week. The few readers of the comparatively innocuous
Mad
who saw it flooded publisher Bill Gaines with complaints. He sent handwritten apologies to every one of them and paid $30,000 to divorce
Mad
from the film. It's left off ancillary packaging, but the creepy prosthetic Alfred E. Neuman is still in the video's titles.