This just appeared in slightly different form in
The Comics Journal
.
Since I haven't been getting much work lately, I at least try to do
something
. Twice a week, I do a panel cartoon and put it on various social networks. It doesn't pay anything, but gives me an audience, keeps me from getting (too) lazy, and gives me something to collect in book form later.
Believe it or not, I sometimes do more than one draft of things. Today was especially hard trying in trying to execute the gag properly.
This started like most gags start. I keep a sketchbook next to my bed so that if I wake up in the middle of the night with an idea I can write it down so I can remember it the next morning. In a partial sleep haze, it seems like the most brilliant idea ever thought of ever by anyone, then when I look at it later, half the time I have no idea what I meant to say, like here: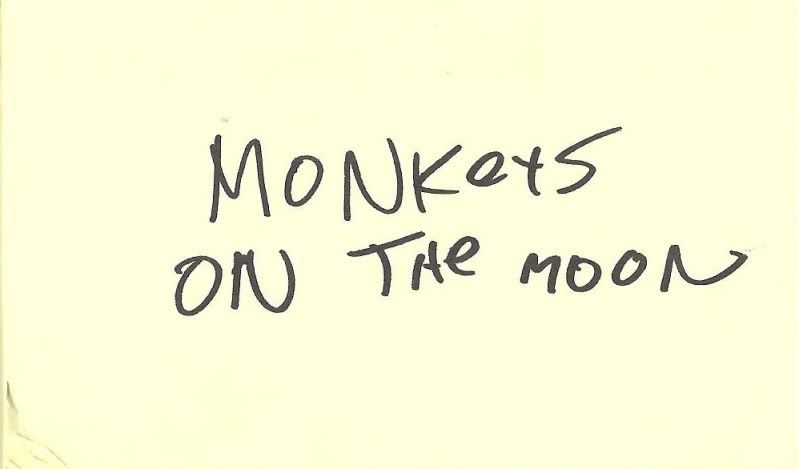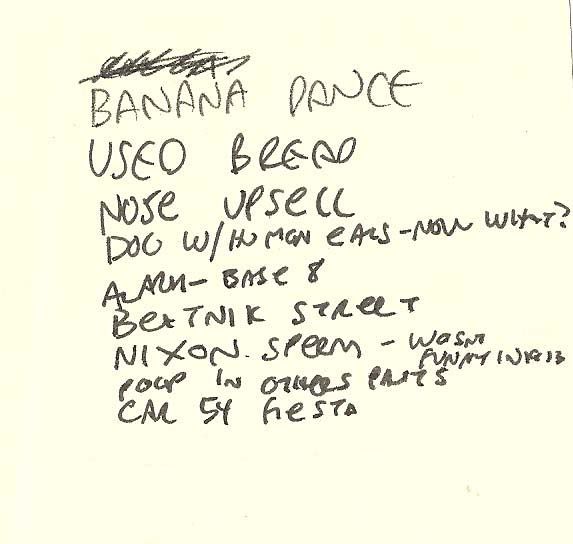 Here's a sketch of something I woke up and scribbled last night.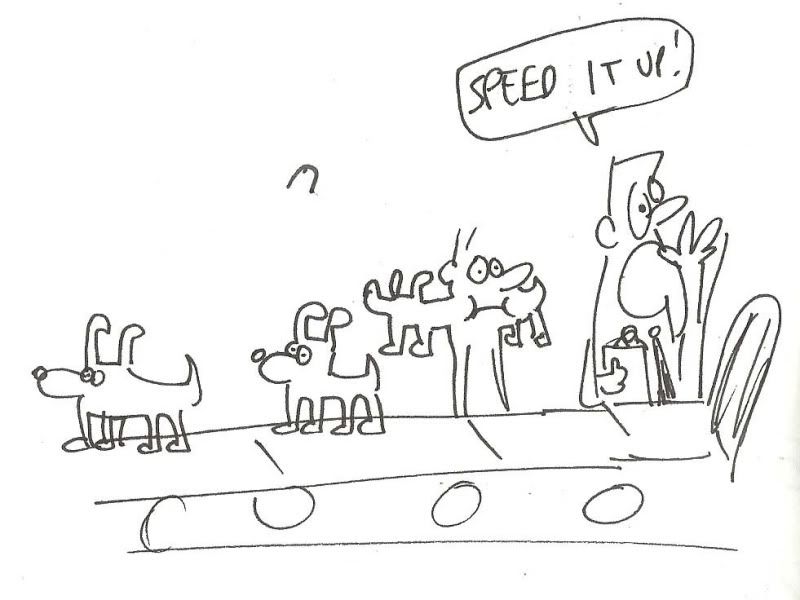 It's a twist on a famous gag. Probably the most famous
I Love Lucy
bit of all time. I'm sure you've seen it. Lucy and Ethel get a job working on an assembly line wrapping candy. When the conveyer belt goes too fast they start eating the candy. Their supervisor comes to check on them and they're too ashamed to admit they can't handle the job and when asked if they're doing well, they nod 'yes' unable to talk because their mouths are full of candy. The supervisor yells to the operator "Speed it up!" I forget what happens next, but if my 42 years on Earth have taught me anything, it's that hi-jinx ensue.
Looking at the gag later, what first occurred to me is that the dogs should be facing the other way. Maybe there should be two people working in the factory. I made a few notes telling me to use those things in the final drawing.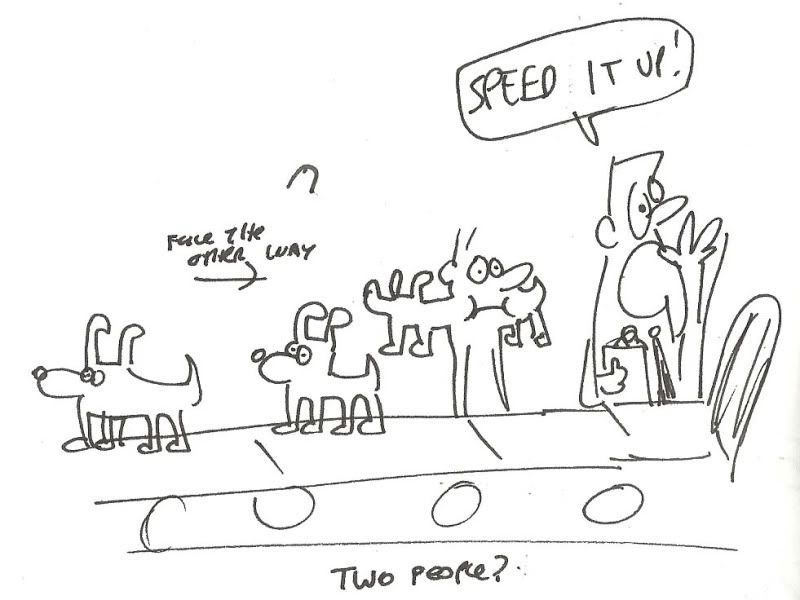 First thing I do is draw the gag in blue pencil. Not to ink (i.e. trace) later, but to block it all out and make sure it reads. I decided to scrap the note of a second person because it would be too distracting.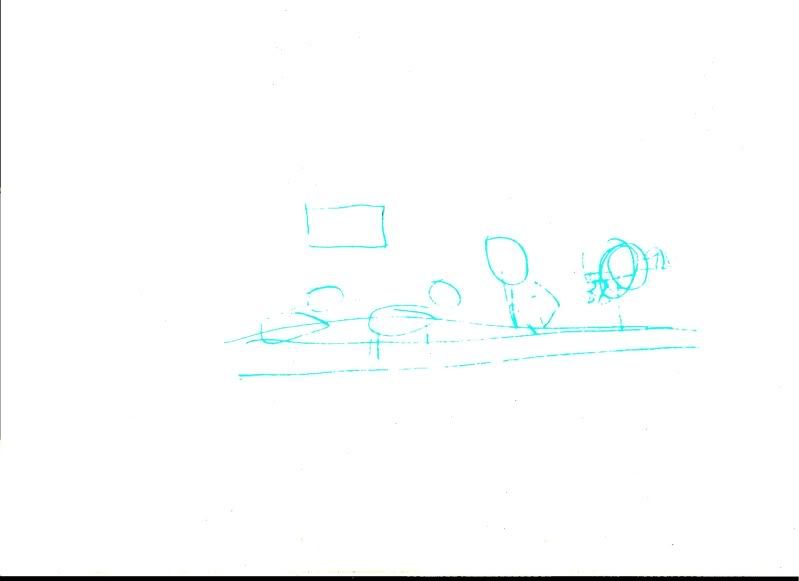 I didn't like this version. Maybe there should be more dogs. The way I had it, there weren't enough. In the original, there are too many candies and the line is backed up. Doing this gag without motion, I can't show the movement of the conveyor belt. Having more dogs shows the belt is going to fast. There also needs to be more chaos to show things are moving too fast. Besides, chaos is funnier. And with so many more figures in the drawing, putting the supervisor there might be too distracting so maybe he should be yelling off-camera.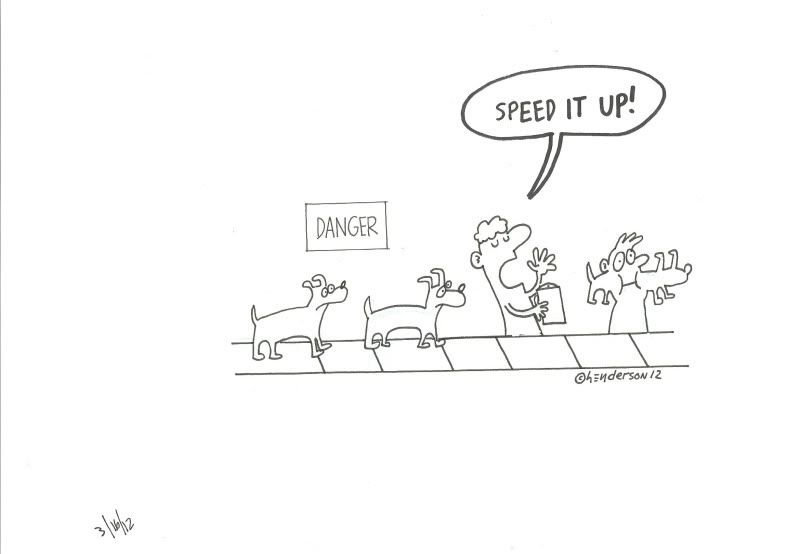 After doing it, I decided it was too cluttered. I also went back to my original idea of two people working so it would read more quickly as a twist on another gag. The sign was too distracting. The supervisor was still in the way so I kept the idea of him being off-camera.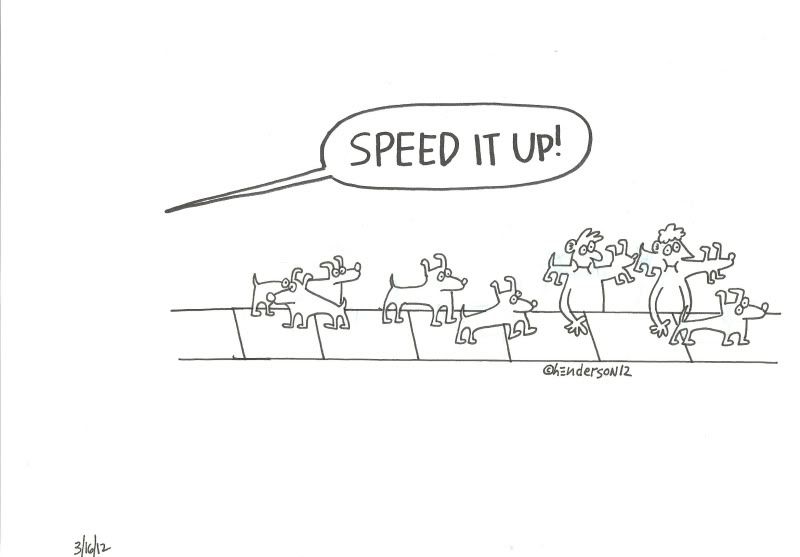 There seemed to be something wrong with the wording. I don't go into as much detail as most of my contemporaries, but as much time is spent getting the words right as others normally spend on the drawing. I feel guilty about it sometimes, and go back and forth wondering whether my work is cartoons, or comedy in cartoon form.
The supervisor yelling "SPEED IT UP!" implies that he's yelling at the workers rather than the conveyer belt operator, and thus aware they're stuffing dogs in their mouths. If I added "OKAY!" it would make it clearer. I rewrote the speech balloon on a separate piece of paper and decided to paste it in when I touch everything up on the computer.

Before coloring it, I touch up the art in Bitmap. I blow it up to 200% so I can erase any stray marks that show up on the scanner. After doing that, I can commence coloring. The coloring's the quickest part. If it's a gag with just two people talking, I just need to a few colors and it only takes a few seconds.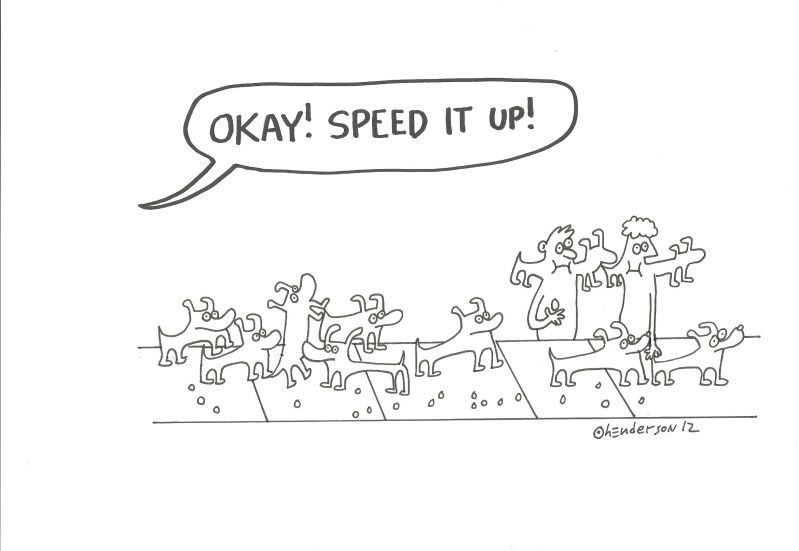 Now to convert everything to CMYK while I make it so I can have the color separate from the black, and back to RGB so it reproduces on web pages. Since the art is minimal, the color should be too, so I just use the palette that comes with Photoshop. I use my mouse to make the blobby background so it looks like torn paper.
Now the cartoon is finished.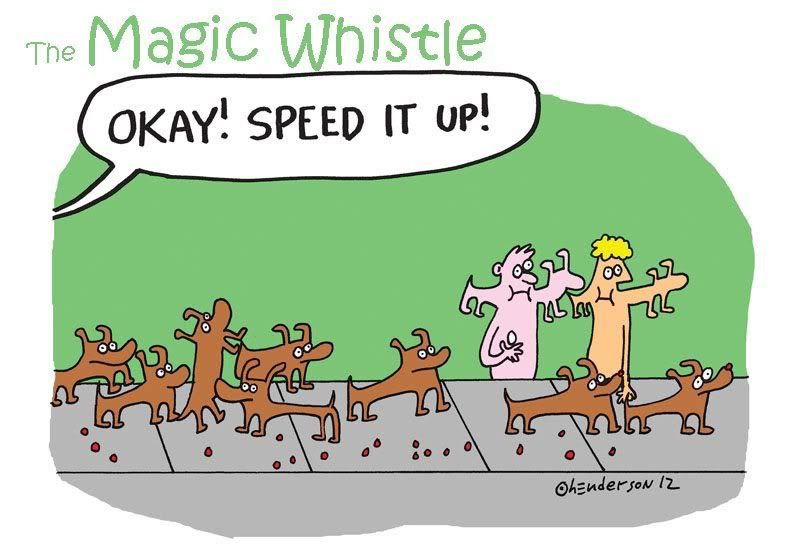 Now to realize 10 other different ways I could have done it or notice prominent mistakes after it's too late. Like how I forgot to color all the noses in. People can criticize all they want, but not one will ever be able to top any criticism I give myself.
The same week I put this over the internet, they parodied this same gag on
Family Guy
, and I get a few messages from people who think I was ripping them off, even though I did this a few weeks before that. I've gotten this before. I parody something, and sometimes people don't know I co-incidentally parodied the same thing and assume it was made up from scratch. That makes me wonder how when a comedy show quotes or parodies something, the viewers think it's something original.