I finally talked to someone I hadn't communicated with in years, the funny thing about it is that I don't know if there was any animosity in the first place.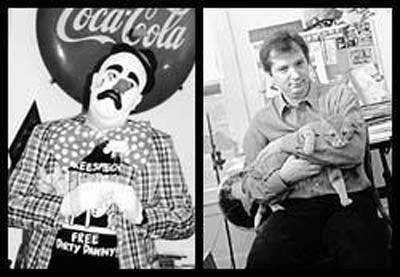 It all started way back in 1999 when
Ted Rall
wrote
an article
for the
Village Voice
about Art Spiegelman and
Maus
and his influence on the cartooning community. It pissed off so many people and got more
letters
than almost anything they ever printed. I don't think Spiegelman's sacred, but to me the article reeked of jealousy.
That same week,
Danny Hellman
sent out an e-mail under the name "Ted Rall's Balls" to about 30 friends, and some addresses I don't think were even real. The e-mail, purporting to be from Ted Rall, said he was the new king of comics and was starting a new forum to trash all prominent cartoonists. If someone did that to me, I'd retaliate by calling them and asking if their refrigerator was running or something equally childish. If I was a credible public figure, I'd let it roll off like water on a duck's back. Ted Rall responded by filing a $1.5 million lawsuit claiming slander and emotional distress. He had the right to do so only inasmuch as that's what courts are for. To objectively look at a grievance, declare who's right, and punish the defendant on behalf of every other victim if need be. However, Danny isn't a large corporation out to hurt everyone. He makes about as much money as me. There's no reason anyone should be shaken down for a year's salary for something that could be settled over a beer. Lawsuits cost the defendant a lot even when they're in the right. And I'd find it insulting if I was trying to get compensated for radiation poisoning from a nuclear power plant and someone else was tying up the courts because someone sent a prank e-mail about their balls.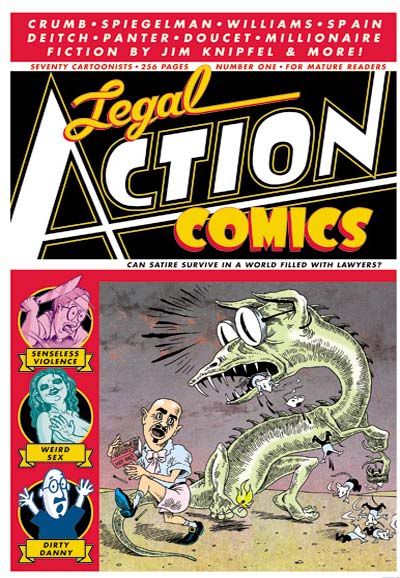 After that, things got ugly. People put themselves in "for" and "against" camps. I put angry posts on the now-defunct
Comics Journal
message board, one of which included Ted Rall's address and phone number. He wrote a letter to the also now-defunct
New York Press
saying they lacked a conscience giving work to Danny and me. The
Voice
and
Press
covered the suit with their own biases. Rall and I exchanged a few nasty emails. What started as ad hominem attacks from each faction devolved into "You suck/no,
you
suck" kinds of letters. Danny put out a
couple anthologies
to raise money if not awareness of his legal bills.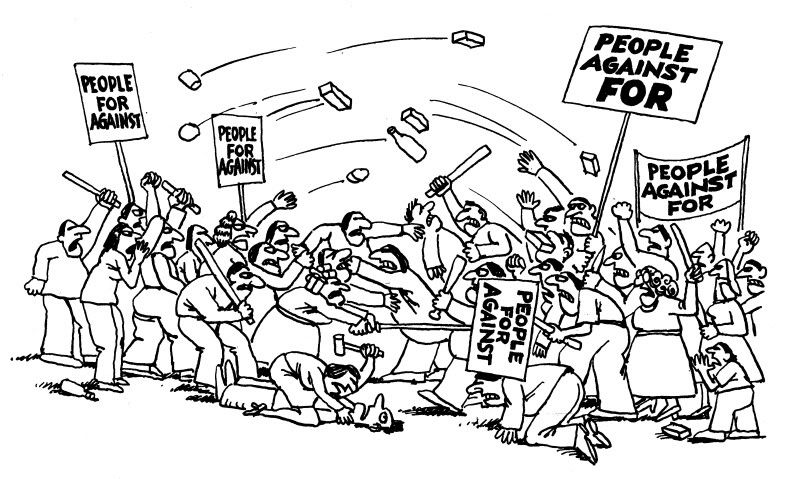 This was quite a while ago and we all forgot about it, until now. Mutual friend
Terrence Ross
set up some web pages which seems were made solely for the purpose of annoying Danny. I'll side with Danny on Rall vs. Hellman, but not Ross vs. Hellman or any other rivalries. I have enough feuds of my own without getting involved in others, and "the enemy of my friend is my enemy" is no way to keep going through life.
Anyway, in pushing buttons, Ross mentioned the name Ted Rall. He knew that Ted was some peoples' bête noire, but didn't know exactly why. It turned out while he was doing research, he started to like the work and said so in the forums he started. He even plans to interview Rall on his podcast (plug: I'm next). This started dormant hostilities all over again. I'd thought about it a long time ago before this, and recently decided to send a note to Ted Rall saying I don't hate him. Not "let's hang out". Not even a declaration of neutrality. Just an agreement to be on speaking terms and not be at each others' throats or pretend we don't see each other should we be in the same place. It would be like refusing to talk to someone because they believed in God.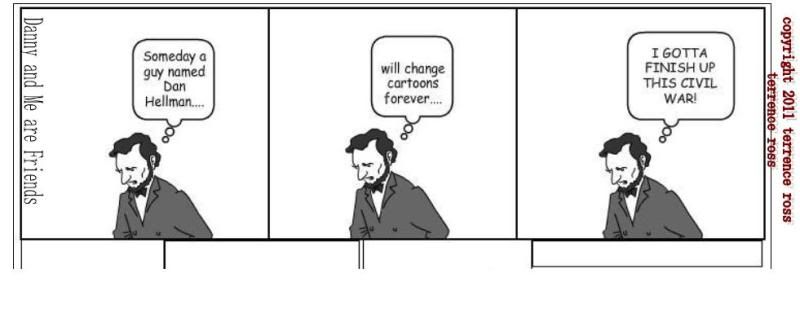 To be honest, I don't get half of Ted Rall's cartoons and I read at a college level. I won't criticize his art, I'd be the pot to his kettle. I agree with his politics for the most part (and apologize for emotionally advocating tort reform, the ultimate evil, in the pages of the
NY Press
). I wouldn't know where he stands just from his cartoons. Some of them seem so far left he's swung a half-circle and gone back to the right. The ones I do comprehend only reaffirm what I already think, but take that with a grain of salt since it's the case for me with most political cartoons. Some seem to be done just so he'll have a cartoon that day. As a pundit, he doesn't speak for me, he's on TV often as Fox News'
Washington Generals
. Ruining the life of Danny Hellman alone is enough of a black mark without any of these other faults. This doesn't mean not to be civil with him or refuse to work with him. It's not like he's a child molester or white supremacist. Despite all negative criticism, we probably have more in common than not. I may not understand why people think he's a genius, but something like the cult of Ron Paul is even more baffling. Anyone else is justified in their rancor. Danny Hellman, whom I've been good friends with for 18 years and hope still am, was understandably hurt by the fact that I'm willing to talk with him. I only speak for myself. I wasn't involved in the suit, I only said things in defense of Danny publicly. I stand by anything that wasn't character assassination. I don't begrudge anyone by association either. There are things about his character I'm not privy to. And to be angry ten years later about something where I wasn't personally the victim just makes me look like an idiot in the eyes of others, most of whom don't care either way. It makes people who are friends with both of us uncomfortable.
I don't have anything to plug this week. Show's over. Elvis has left the building. Turn out the lights when you leave. Release the hounds. Go home now.