While Blogger was shut down, it seems yesterday's post disappeared. Here it is again and if it was the name of the magazine that's the reason, an administrator can let me know at mwhistle@aol.com, or at least acknowledge that the post was censored. Maybe it's my own paranoia. I thought a picture had been taken down a couple weeks ago but what really happened was that I typed the wrong code.
What I said basically was that I found this at a used bookstore in Brooklyn that isn't there anymore. Many people have looked for this magazine but aren't sure it even existed.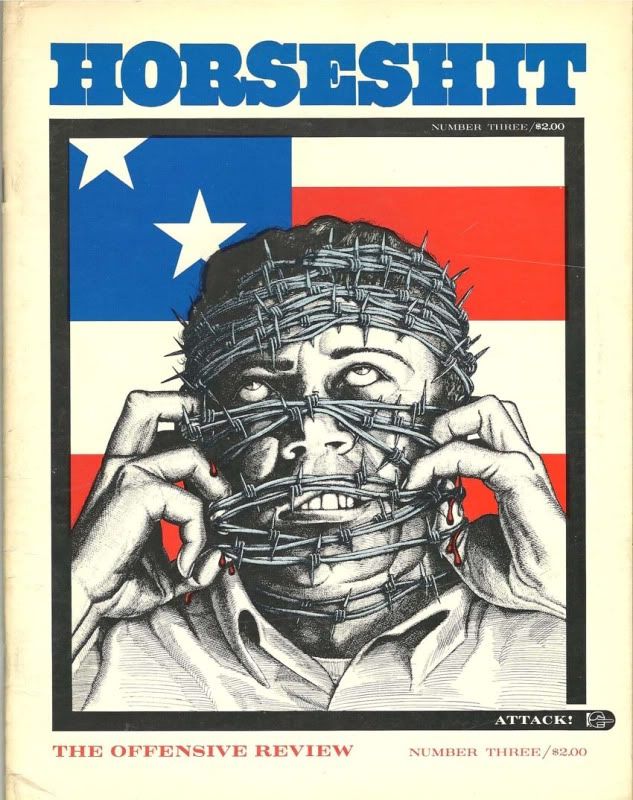 It was advertised frequently in NATIONAL LAMPOON.
The used bookstore I found this at was called Grand Book Mart in the Williamsburg section of Brooklyn. It's not there anymore, a casualty to gentrification. It was a shadow of its former self by the time I was there anyway, but at one time it was one of the first comic stores.

By the time I went there in the early 90s, there were few used books and the store seemed to mostly specialize in party favors. I don't think the clerk I bought this from even spoke English.
More details about this magazine can be found at
CINEMA SEWER
and
VICE
, but here it is in its entirety.